Besides reviewing phones, we're always trying to come up with new ways to make our reviews more informative. Which is why we're excited to announce the Picture Comparison Tool - an "in the lab" test, the results of which can be viewed directly in your browser.
Our unimaginatively named Photo Comparison Tool pits up to three cameraphones of your choice against each other on a single webpage. Unlike the crops of the resolution chart, the new tool lets you pan around the entire chart photo with 100% zoomed views for each phone.
We've been posting synthetic resolution tests in our reviews for a while now but we've worked to improve the practicality of this test. We've added two new posters to the mix and to make it easier for our readers to compare one phone to another we created the Photo Compare Tool.
We will, of course, keep posting "real life" photos but they are at the mercy of the weather - the "in the lab" comparison on the other hand is performed under reproducible conditions, so each phone gets a fair shot at the top.
The tool's page will give you enough information on how to use it, so here we'll briefly go over what exactly we're comparing. The two new charts give more data points to judge a cameraphone's performance not only in terms of resolved detail, but also color reproduction, image processing and distortions from the camera lens.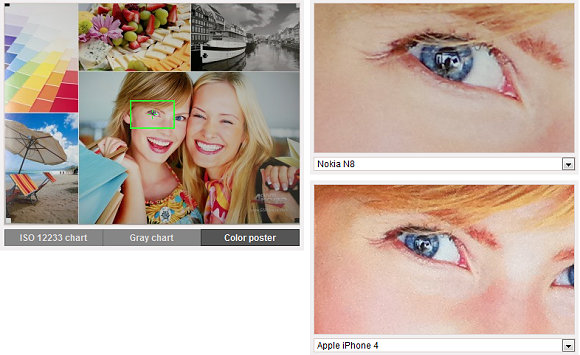 Our new Photo Compare Tool
The database of phones that can be tested with the tool will grow with time, but for now we've done our best to add some of the hottest phones and some older ones to serve as basis for comparison. Check out how the Nokia N8 versus the Samsung Pixon12, one of the first 12MP sharpshooters, or maybe the iPhone 4 the Samsung Galaxy S.
We'll add many more phones in the coming weeks as we dig back into our resolution chart archives. We don't have the new posters shot with these past phones, but a shot of the standard ISO 12233 test chart is available from most of those.
Now, go on, play around with the Photo Compare Tool and don't forget to leave us a comment - what you think of it, any problems you've had (and your browser info) plus any ideas you might have on how to improve it (including coming up with a new, more catchy name).
?
There is no icon in the home page. I even tried to e-mail the customer service about ten days ago, but they have not answered yet. Great
?
y isnt thr an icon fr photo compare tool on gsm arena's homepage....????
?
Wow, excellent! One more reason to love your site... I ditched another popular website (whose name also has the word "Arena" in it...) and moved here because all their reviews were biased towards Apple devices. But your reviews seem fair. Y...
ADVERTISEMENTS