Another Huawei Mate 30 case leak offers a closer look at the circular camera module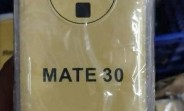 Yet another case leak for the upcoming Huawei Mate 30 (or perhaps it could be the Pro, we can't really say). To absolutely nobody's surprise, it features a circular camera cut-out on the back, alongside a thin vertical sliver. No surprises these, since we have already seen the same general layout on a number of other case leaks, as well as the recent very detailed CAD renders of the P30 Pro.
Yet another leaked protective case for the Huawei Mate 30.#huawei #Mate30 #5G #Kirin990 pic.twitter.com/UpKDYfwNWF

— Mukul Sharma (@stufflistings) September 14, 2019
The potentially interesting bit here comes from the alleged camera arrangement that the particular case manufacturer decided to scribble on the cardboard underneath the case. And, mind you, scribble is the most appropriate verb to use, since it could very well be nothing more than a hunch by a random employee somewhere and not based on any actual info. Remember, even though case manufacturers typically get phone schematics way early, these are general surface models with not a lot of detail on parts that don't require additional cut-outs.
Anyway, the camera arrangement is definitely different from most previously suggested ones. As far as we currently know the camera setup on the Mate 30 will be a combination of 40MP main, 40MP ultra-wide and 8MP telephoto units joined by a 3D TOF sensor. That 8MP telephoto could very well be the same periscope 5x unit from the Huawei P30 Pro. And it does have a square shape. Then again, a beefy LED flash could easily be in the shape of a square as well. The smallest hole of the bunch on the picture could probably house the 3D TOF sensor. Although, having said that, Huawei positioned that alongside the LED flash on a side strip next to the main camera assembly on the P30 Pro. And since there appears to be a similarly shaped strip on the Mate 30 as well, we do have to wonder what all the extra holes on the main circular module are for. But, we're fast approaching the realm of pure speculation at this point.
Some of the other alleged traits of the Mate 30 Pro and likely its vanilla sibling as well, in no particular order, include an extremely curved "waterfall" style display extending all the way down the sides of the phone. Potentially, a lack of a power button and volume rocker to accommodate said design, instead simulated by touch-sensitive areas. Then there is the new Kirin 990 SoC, a USB-C port and likely an IR blaster.
?
Your final decision is of our utmost concern. I will alert the high command of the situation.
ADVERTISEMENTS