We have another picture of what is likely to be the next Galaxy phone. As usual, the phone is camouflaged by being placed within a case but we still get a glimpse of some of the important bits.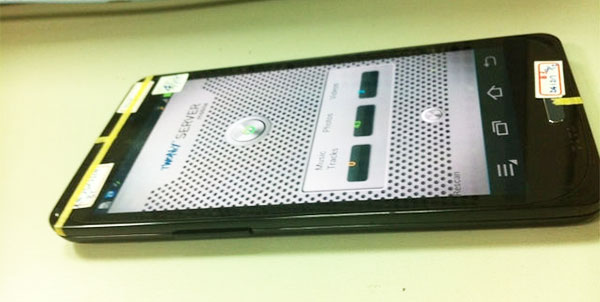 For starters, we see the arrangement of the buttons at the bottom of the display. For the first time, we are also seeing a Menu button there, along with the Back, Home and multitasking button. Samsung has changed the order of the keys again and placed it on the left unlike the Galaxy Nexus, which places it on the right. Also, unlike the Galaxy Nexus, the Menu button pushes the other three buttons on the right, so they are no longer in the center.
What's curious, though, is what we see below the display. There is a physical Home button, not unlike the ones we have seen on previous versions of the Galaxy smartphones. However, we did not see this when we first spotted this prototype device. If the phone is going to have on-screen controls then it makes no sense to have a physical Home button. Perhaps this is something that will eventually disappear by the time the phone reaches the production stage.
Another thing to note is the shape of the device. If you look closely, placed within the case, the corners of the base seem to be highly curved. If you remember the media invite image for the Mobile Unpacked 2012 image, you see two curved droplets of white and blue metallic substance.
If we put on our soothsayer hats for a minute, we can see the Galaxy S III being available in white and blue colored versions, with the blue model having a metallic finish, and both having highly curved corners. The curves will help the device fit your palm perfectly, which also goes with Samsung's tagline that says "For technology to be truly smart, shouldn't it fit into your life naturally?" with additional references to Galaxy fitting in your hands in the teaser video.
Anyway, we won't have to wait too long to find out how it really looks like, with the Samsung event being just a week away from today.
S
it is like being friends even after someone has raped you. You think Samsung would tie up with a company whose only work is to sue each and every one?
p
Is the sgs3 running the new cloud service from samsung there in the screenshot?
ADVERTISEMENTS