The new Redmi Note 7 is a massive success in its early days. The phone was initially launched in January and arrived for its first flash sale two weeks ago. The sub-brand has been releasing 100,000 units at a time, and they keep selling out in minutes. The last flash sale happened this morning, and another batch was gone, this time for 10 minutes 56 seconds, the company boasted.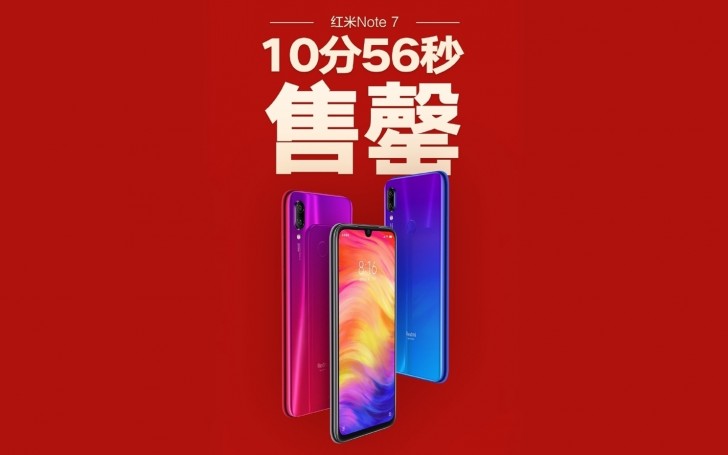 The Redmi Note 7 is the first device after the Redmi line was spun out into its own brand. The phone is such a hit thanks to its Snapdragon 660 chipset, 6.3" notched Full HD+ screen and 48 MP camera with a Samsung ISOCELL sensor. It runs MIUI 10, based on Android Pie and comes with Quick Charge 4 support.
The 3/32 GB variant is CNY999 ($150), while the most powerful 6/64 GB option is CNY1,399 ($210), which is way cheaper than any other smartphone with similar specs on the market. Specs and price might be crucial for sales, but popularity was further boosted by a National Tour, where fans across China got to test the durability of the phone in person.
Lei Jun, Xiaomi CEO, posted a neat video on Weibo, picturing people knocking on the Gorilla Glass-covered front. The global market is yet to see how durable the Redmi Note 7 really is, but this should change soon since the phone will arrive in India soon.
M
You made a mistake, there is no Redmi 7, no official spec, yet, you talk about Redmi Note 7 spec (6.3", 48mp etc..) just saying :) Like i wrote, i hope that Redmi 7 will be good (with Qualcomm) compact (no more than 5.86") phone. If is there 40...
W
The Redmi 7 has 6.3" display, size: 75.2 mm x 159.2 mm x 8.1 mm. And is made from plastic and crystal to adjust the cost. Between 150 and around 200 euros depending the amount of memory. 3-32, 4-64 and 6-128 Gb. 48 Mpx camera Samsung S5KGM1 ISOCELL ...
M
Redmi 6 with MediaTek (P22) and all plastic body is not good phone, even Redmi 5 was a better device with alu back, biger battery, better screen, and Qualcomm 14nm processor. They went with Redmi 6, not step ahead, but step in side :D I hope, Re...