AnTuTu officially claims the Galaxy S6 and S6 edge are the most powerful smartphones to date
AnTuTu is definitely among the most reputable mobile benchmarks, so their analysis always make for an interesting read. Now the company has officially tallied up a lot of recent test results and has come to the conclusion that the Samsung Galaxy S6 and S6 are the most powerful smartphones in existence.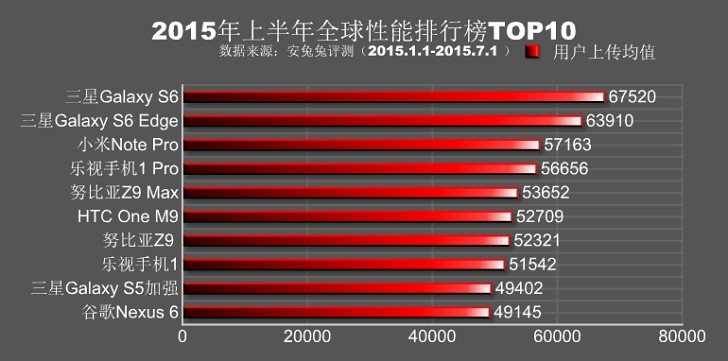 That is quite a grand proclamation to make, but if anyone has the numbers to back it up, it's AnTuTu. The enclosed chart was created after averaging a large base of user-submitted benchmark results.
This is the only effective way to eliminate odd results and find "true to life" values. According to it the Galaxy S6 takes the cake with a whopping 67,520 points on average, followed close by the S6 edge with 63,910. Third place is occupied by Xiaomi and particularly the Mi Note Pro.
This will certainly change shortly though and the Qualcomm Snapdragon 820 in the upcoming LG Nexus 5 (2015) is making a bold statement with an outrageous AnTuTu score of 85,530 points. So it seems we are in for yet another major leap forward in performance with the next line of flagship devices.
C
I own both a: Samsung Galaxy S6 Edge - 64GB (Running Android 5.1.1) and a Nexus 6 - 64GB (Running Android 6.0.1) and noticed that the Nexus was a much faster phone for actual use, so I figured I would try this exact test. Using AnTuTu Benchmar...
?
Now thats just exactly how a basher should sound.Pffff bunch of non-paid claimants.