With the first quarter of 2015 behind us, Antutu was quick to publish its statistics for the current state of performance in the smartphone realm. The numbers leave little doubt who holds the crown, with the Samsung Galaxy S6 in a league of its own.
The report summarizes user-submitted data gathered from 160 countries over the course of the three months from January to March. Then the mean score is calculated for each device, but different chipsets within the same model get a separate listing.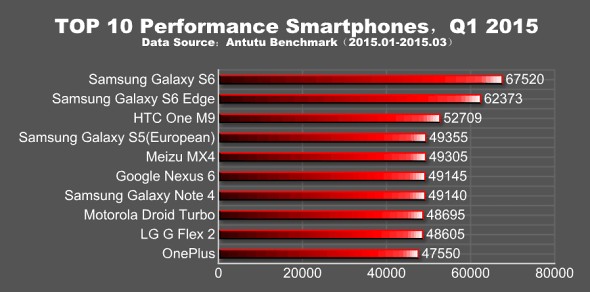 The Exynos 7420 powered Galaxy S6 emerges victorious, a long stretch ahead of the best placed Qualcomm Snapdragon 810 contender, the HTC One M9. Interestingly, the identically equipped Galaxy S6 edge is a few percent behind its regular brother. The updated Plus version of the Galaxy S5, sporting a Snapdragon 805 chipset, takes the fourth, continuing Samsung's strong presence in the chart.
Highest ranked Chinese entrant is the Meizu MX4, powered by a MT6595 SoC, the only Mediatek in the Top 10. Motorola claims sixth and eight spots with Nexus 6 and Droid Turbo, both sporting a Snapdragon 805. The LG G Flex2 completes the S810's disappointing run, while the OnePlus One sneaks in 10th spot, proving that the S801 is still relevant.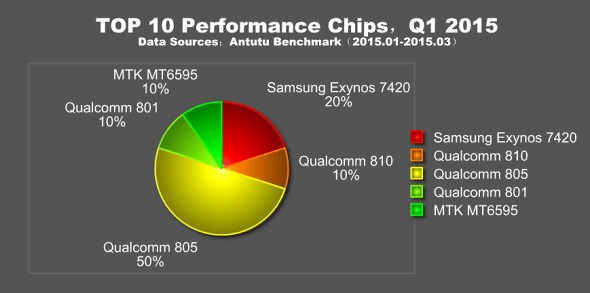 GPU scores are a similar affair, although the superiority of the octa-core Mali T760 within the Exynos over the S810's Adreno 430 is less pronounced. Last year's offerings fall behind with each previous-gen proportionately lower in scores. The PowerVR 6200 inside the MT6595 proves no match even for the Adreno 330 in the Snapdragon 801.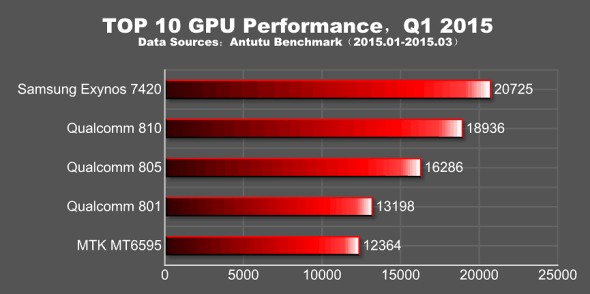 G
Zopo ZP999 Lionheart MTK6595m 46000
?
s6 lags like hell man , check it out on youtube.
w
hey guys where is Intel Atom Z3580 (4 GB RAM model)it is scoring more than 50000
ADVERTISEMENTS