When Apple announced the iPhone 5, the only details they revealed about the new processor was that it was called the A6 and that it was twice as fast as the older one in CPU as well as the GPU.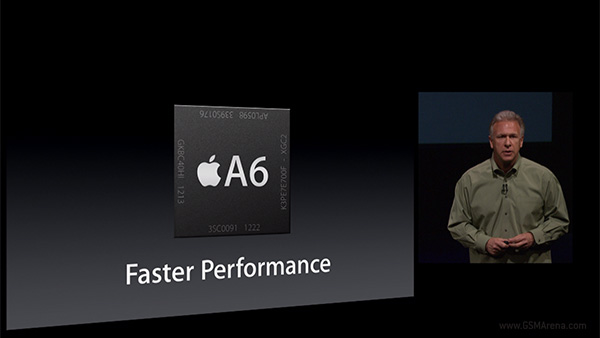 Rumors started circulating shortly afterwards that Apple was seemingly using the brand new ARM Cortex A15 cores for the CPU, being the first in the industry to do so. Turns out, that's not the case after all.
Thanks to some super sleuthing by AnandTech, it has now been revealed that Apple is neither using the new A15 nor the older A9. Instead, Apple has chosen to go with a custom design based on the armv7s architecture instead of licensing a specific core like the A9 or the A15.
This is similar to what Qualcomm does for its CPUs, such as the Scorpion or the Krait, which are based on the ARM architecture but use Qualcomm's custom core.
This move would give Apple greater control over the size, performance and the power consumption of the new chip, something you can achieve better with a custom chip than off-the-shelf ones.
As for the GPU, things are still fuzzy at the moment but AnandTech is guessing it could be the PowerVR SGX543MP3, a faster version of the SGX543MP2 used in the A5. It's unlikely Apple would have gone for the PowerVR SGX543MP4 used on the A5X, due to its large size and higher power consumption. Besides, that GPU is way more than just twice as fast as the 543MP2.
Things should become clearer once the devices start shipping and people start running benchmarks on them. We'll keep you posted if anything new comes up.
R
to cut it short, i have both SIII and 4S; normal usage on SIII can last for almost day and half. 4S will barley last till the end of the say , actually sometime i take it off charger at 07:00 and by 11:00 i am already 62% ( like right now)
D
No offense taken. I made my point, you had nothing but a dig in reply. I win. Im happy, your happy.
s
:) i know exactly that you have been sarcastic... and for all you are 100% right (doesn't give advantage and update)... but you missed my point, that may be is not so much advantage but it is option and given possibility to exploit... and price is ...
ADVERTISEMENTS