The iPhone 5 should be getting an update soon – the iPhone 5S probably – but what could that update be? The closer we get to launch, the more likely it is one of the parts suppliers will let something slip, like the motherboard of the new phone.
The photo was sent to iOSDoc from a "very reliable source" and it clearly shows an Apple A7 chipset – that's the successor to the A6 in the iPhone 5 and latest iPad.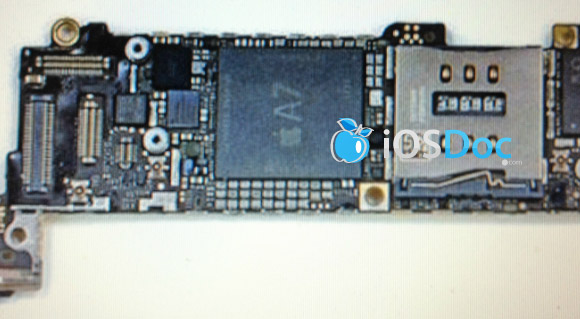 According to the source, the number of CPU cores and amount of RAM have both been doubled, meaning the A7 chipset packs a quad-core processor clocked at 1.2GHz and 2GB of RAM. The RAM clockspeed will reportedly take a hit, though – going from LPDDR2-1066 to LPDDR-800.
The GPU will reportedly be PowerVR SGX554MP4 (quad-core) like in the iPad 4, up from SGX543MP3 (tri-core) in the iPhone 5.
The iPhone 5S will keep the 4" 640 x 1136 display – that's not very surprising, given that changing the screen size will mean either sacrificing sharpness (if Apple keeps the resolution) or app compatibility (if the resolution is adjusted accordingly).
The tipster also mentioned that Siri will get cool new abilities in iOS 7, but had nothing to share on battery capacity (more CPU and GPU cores will need to be fed) or any camera upgrades.
The image has been confirmed to be fake. Move along guys, nothing to see here.
?
GS3 scored better in some benchmarks and vice versa
?
When it comes to smoothness, S3 is smooth as much as it can get, this is no longer 2008, i have tried them both and they are equal so idk why you're implying that S3 is somewhat unsmooth, as for battery life the iphone has a small screen compared to ...
?
Haha I don't think so cause iPhone doesn't need big a.. core for ruining the OS unlike Android lol.
ADVERTISEMENTS