Apple and Xiaomi lead the smart wearable market in Q1 of 2018 with 3.8 million and 3.7 million shipments respectively, as per Canalys data. Apple's shipments were bolstered by the Watch Series 3 and the addition of LTE, while 90% of Xiaomi's shipments were accounted for by the Mi Band models.
Wearable band shipments grew 35% over last year's Q1 to a total of 20.5 million units in 2018. Smartwatches still contributed the bulk of the revenue - 80% - despite managing just 43% of the total shipments.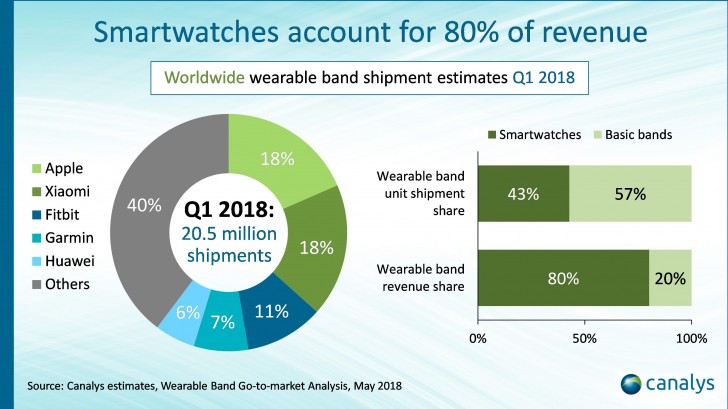 The two leaders are followed by Fitbit, Garmin and Huawei make up the top five vendors in Q1 of 2018.
A key achievement for Apple was the number of LTE smartwatches it managed to ship. The LTE Apple Watch 3 also added a new revenue stream to carriers thanks to new data subscriptions it requires. In Q1 Apple represented a 59% share of the cellular-enabled smartwatch market.
Garmin was the second smartwatch vendor with 1 million shipped watches.
i
Not so many people using Samsung because of size. There are no watches for people who don't like bulky watches or even there are no watches for woman. Xiaomi and Apple offering small and stylish watches.
T
Where is Samsung?! Maybe that's why Samsung is ditching Tizen for WearOS!