Apple has just announced the next version of its iOS platform for the iPhone, iPod Touch and the iPad. iOS 6 has an updated Siri, Facebook integration and completely new Maps application with built-in turn-by-turn navigation as its key features.
The evolved Siri got the most stage time – it now launches apps, can fetch you news and facts about sports, movies, people, read your notifications. Apple is working with BMW, GM, Mercedes, Land Rover, Jaguar, Audi, Toyota, Chrysler, Honda and others in an attempt to put a dedicated Siri button on the steering wheel on all cars throughout the next 12 months. This would enable completely hands-free operation of your iDevice when you are driving.
Siri also got support for new languages – Canadian English, Spanish (Spain, Mexico), Italian, Korean, Mandarin, Cantonese and Chinese.
With iOS 6, Siri is finally landing on the iPad, but only if you have the latest Retina-packing version of the slate.
The iOS 6 also brings the long-awaited Facebook integration. It works throughout the whole platform, just like the already available Twitter one. You get an Android-style phonebook app, where your regular contacts are connected to their Facebook profiles and you get updates on their albums, messages and status updates right from the contact's screen.
The Notifications Center has two new additions – Update Twitter and Update Facebook status shortcut keys.
The next new feature is Reply with Message when you can't answer a call. Okay, this one isn't really major and everyone else probably already has it, but it's still good that Apple finally enabled it. There's also another new button on the incoming call screen, which will mute the call and will remind you about it later so you can call back.
The iOS 6 brings a new Do Not Disturb mode, which mutes all push notification, incomming calls and prevents the screen from lighting up, so it doesn't disturb your sleep or hard work. You can schedule your iDevice to automatically enter Do Not Disturb mode at a specific time every day.
The Do Not Disturb mode can be set to still let through messages and calls from your favorite contacts and groups as well as repeating calls, so your loved ones and those that need to contact you urgently can always reach you.
FaceTime also got updated with iOS 6. The video-call app now works over cellular networks, not just Wi-Fi. About time, we would add!
The FaceTime/iMessages ID is now unified and if someone is calling/texting you, you will be able to get the call from your iPhone, iPad or Mac – whatever works for you.
The Safari browser has learned a few new tricks in iOS 6. It now has iCloud Tabs, which are synced with your desktop Safari in real time along with an offline reading list. Another cool extra is the ability to upload photos right from the browser to Facebook, Twitter, Picasa, etc.
Shared Photo Stream is another new feature with a social taste. It lets you select contacts and give them access to the photos you are uploading. Once you upload a new album said contacts will be notified and they will get the chance to check your shots and post comments on them.




Sharing photos in the Photo Stream
The next new feature is VIP contacts. You mark a contact as VIP and all the messages you get from that contact will be highlighted, so you'd know to check them out first.
The iOS 6 introduces a new preinstalled app called Passbook. It will collect all of your boarding passes, tickets, coupons, loyalty cards etc. and keep them neatly organized. QR codes scanning is supported, so you can easily get those on board.
As the main change brought by iOS 6 is a new Maps application, called... Maps. Apple has ditched Google Maps and is introducing its own service to replace it. The new maps have cool design and offer local search options with Apple claiming to have inserted more than a 100 million business listings already. The new Maps support 3D mode and satellite view.
As long as you are touting an iPhone 4S or an iPad 3 you get turn-by-turn navigation which works even on the lockscreen and a Flyover view mode just like the one Google announced the other day. Even more impressively, there is integration with Siri (search of gas stations, parking lots, etc.).
The final noteworthy features of iOS 6 include accessibility extras, better privacy controls, improved voiceover and dictionaries, redesigned apps and stores and improved camera HDR, etc.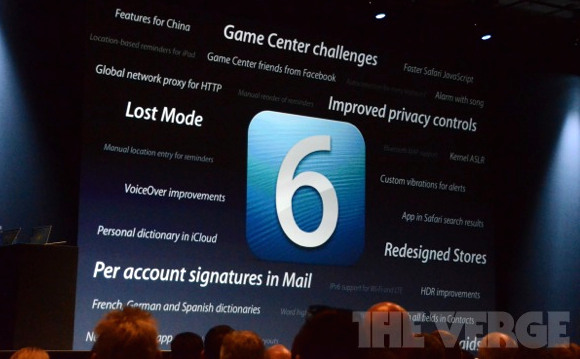 The iOS 6 is compatible with iPhone 3GS and later, iPad 2nd and 3rd gen, iPod Touch 4th gen. This means the first-gen iPad is out of the game. Sorry, guys.
The iOS 6 beta is available as of today, while the final release will hit the supported iGadgets this fall. We can't wait to put the beta through it paces.
?
Blue tooth apple iPhone
?
yep just like siri ;)its funny because its an extras feature, just for fun! haha, weve got all the basic feature like reject call per sms, offline reading,night-time profile, cellular video call,shared photo, google wallet, and fully functioning maps...
D
Having some features removed is better than not even getting the update at all eventhough your device is more than capable of supporting it. Fragmentation is the denial of a whole numerical update rather than just missing a few features.
ADVERTISEMENT