The Apple iPad Air 2 is only 6.1mm, making it the thinnest tablet yet. It's also now available in Gold as well as silver.
The tablet is powered by a custom Apple A8X chipset, which is a version made especially for the iPad family. The CPU is 40% faster, while the GPU is 2.5x faster than on the A7 chipset.
The TouchID fingerprint sensor from the iPhone is finally available on the iPad Air 2.
The screen on the iPad Air 2 is the same reslution as before, but now has a new anti-reflective coating, which reduces reflections off the screen up to 56%.
The iPad Air 2 has a 8MP F/2.4 camera and shoots 1080p video. The camera can take time-lapse videos, 120fps slow-mo videos and has burst mode. There is also a second mic to allow stereo audio recording, unlike the iPhone 6.
The front camera is updates as well. It has a new sensor, improved face detection and HDR videos.
Wi-Fi is faster now, with support for 802.11ac, MIMO antennas, rated at up to 866Mbps connection rate.
Battery life is kept the same at 10h just like last year.
The iPad Air 2 will be available in Silver, Space Gray and Gold.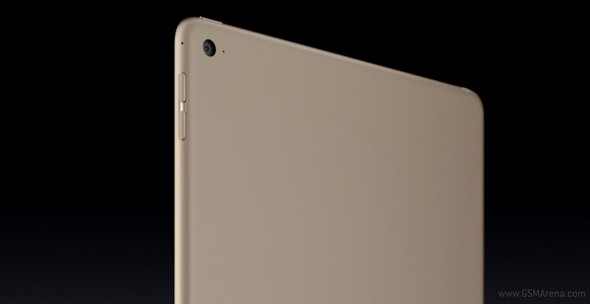 The iPad Air 2 will start at $499 for the 16GB just as before. Just as on the iPhone, the 32GB version is now gone and the 64GB version will be priced at its price level - $599. The LTE versions will cost you $130 extra.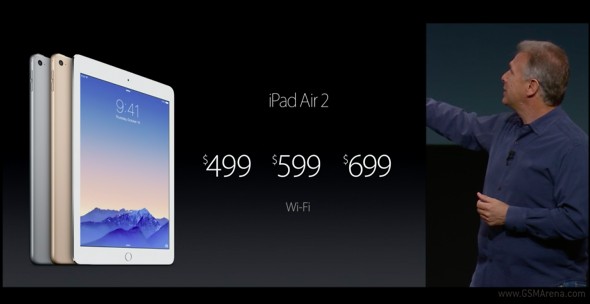 The last year's iPad Air will stay around, too, selling for $100 less than the new generation.
Pre-orders will start tomorrow, October 17, and the iPad Air 2 will be shipping next week in the US, Australia, Austria, Belgium, Bulgaria, Canada, China (Wi-Fi models only), Czech Republic, Denmark, Finland, France, Germany, Hong Kong, Iceland, Ireland, Italy, Japan, Liechtenstein, Luxembourg, Macau (Wi-Fi models only), Netherlands, New Zealand, Norway, Poland, Portugal, Romania, Singapore, Slovakia, Spain, Sweden, Switzerland and the UK.
Availability in Croatia, Greece, Puerto Rico, Russia, Turkey, United Arab Emirates and elsewhere around the world, will continue through the end of October with additional global availability in the coming months.
To learn more about it, check out Apple's iPad Air 2 product page.
D
that tablet is not even released yet.....
T
Yet another reason why I don't really care for Apple and the majority of the media that gives undue attention to their products. For one, the Dell Venue 8 7000 is the world's thinnest tablet ( http://www.dell.com/learn/us/en/19/campaigns/laptops-tabl...
D
They have 64 and 128 gb models so sorry, i dont see the problem. If you want to edit videos buy bigger model, its that simple. 16gb for many people going to be enough. If not buy bigger model.
ADVERTISEMENTS