Some might say it was only a matter of time, but it finally happened - Apple is the most valuable publicly traded company, beating ExxonMobil for the top spot. Apple temporarily overtook ExxonMobil on Tuesday, but ended the day second.
Yesterday, however, Apple held the top spot when trading closed for the day and today, it's still on top.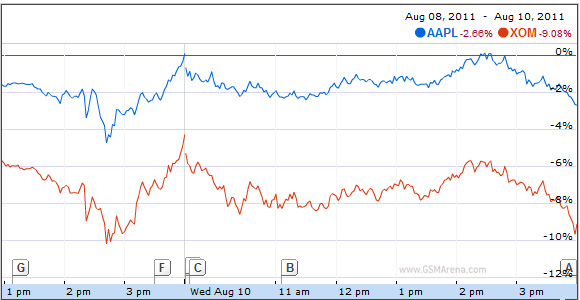 Apple's market cap is currently sitting at just over $340 billion and ExxonMobil's is $335billion. Apple's stock has been on its way up for a long time now, but ExxonMobil recently lost a big chunk of its marketing cap (it used to be $400+ billion less than a month ago), which helped speed up the process.
The gap between the two companies seems to be widening too. All this is happening after a record-breaking quarter for Apple, which saw the Cupertino company become the world's biggest smartphone maker.
2011 will probably be remembered as one of the best years in Apple's history and there's more to come - we're still waiting on the iPhone 5 (or is it 4S?).
r
apple is a very good brand in market
S
It's so obvious world wide that if u don't have any apple production your household,then you should check itself.apple says it all.in an apple fanatic.
ADVERTISEMENTS