It was about time. Apple got quite a hit by the wave of user discontent about the iPhone 4 antenna issues. It's been 3 weeks since the premiere of iPhone 4, but it is tomorrow that Apple will confess. Or not.
And this is all we know so far. Apple sent invitations to select press representatives for tomorrow's press conference. It will start 10:00 AM Pacific Time (6 PM European GMT) and will surly concern iPhone 4. Whether Apple will admit the issues, offer free bumper cases or start a recall campaign - nobody knows. But this sounds surely as the first step into the right direction.
Meanwhile iOS 4.0.1 beta is already available to developers and here is a glimpse of what we should expect.
Update 16 July: iOS 4.0.1 is officially out the door.
The reception bars now make use of both a new formula and a new size. The first reports show that a full-bars situation is now a rare event. The bars are also a bit taller than before, which sounds like a clever mind trick.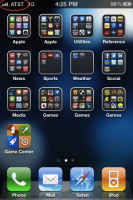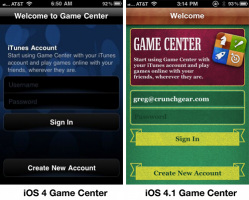 The new reception bars • the redesigned Game Center
The Game Center has been redesigned too. It's now painted in green with yellow buttons.
Finally, there are some rumors of watermarking of jailbroken devices. If your iPhone 4 has joined the pirateland, it will have some watermark showing onscreen all the time. Don't worry just yet though, there's still no public jailbreak solution and it's all just a rumor for now.
?
As for the US tech blogs, sorry, but they simply don't have a clue what they are talking about. The US tech media is well known globally for being ignorant about mobile generally – they live in such an insular, inward looking world, and are highly de...
s
I wanna be billionaire so freakin bad, so I could sue apple with a battery of lawyers and lawsuits, and then I'll box Steve Job's flimsy face.
?
A gorgeous phone,great battery,great screen and sound,but then you can't use it as a phone : total signal loss, screen is getting water-spottier every day that passes...Still no memory card...Still no bluetooth file-exchange between pals,maybe i'll k...
ADVERTISEMENTS