According to a latest report from market research firm Strategy Analytics, Apple iOS captured a record-high 88.7% global smartphone profit share in Q4, 2014, up from 70.5% in Q4 2013.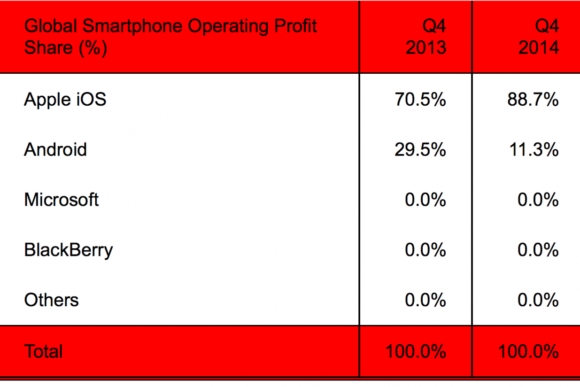 On the other hand, Android took a record-low 11.3% profit share, down from 29.5% in the same quarter in 2013.
In terms of dollars, Apple's Q4, 2014 smartphone operating profits stood at $18.8 billion, up from $11.4 billion in Q4, 2013, while Android manufacturers had operating profits of just $2.4 billion, down from $4.8 billion in the same quarter the previous year.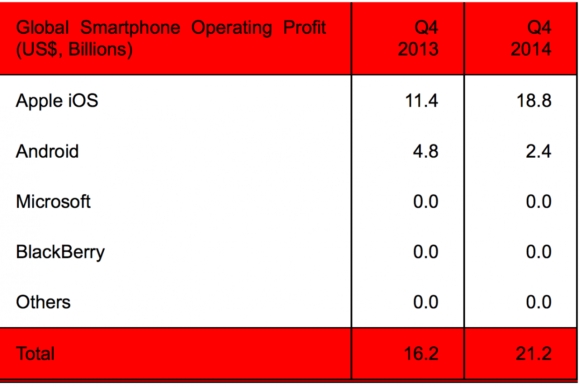 "Apple's strategy of premium products and lean logistics is proving hugely profitable," the research firm said, adding that "Android's weak profitability for its hardware partners will worry Google."
Overall, global smartphone operating profit stood at $21.2 billion in Q4 2014, up 31% from $16.2 billion in Q4 2013.
Source
|
Via
?
simple fact : iPhone will survive until (at least) teen girls are in (at least) USA Microsoft will (at least ) be the only company to offer windows phone Android will suffer from huge competition but (at least) xiaomi , lenovo and Motorola will s...
D
Apple is dominating smartphone markets and have been doing it for a long time. Apple still isnt the company who try to take much marketshare as possible, they already get all the money so whats point to get pointless marketshare and losing money? Bec...
D
We only know that 60-70% android phones are low cost phones, which doesnt make money almost at all, thats not good thing for companies, most of android companies are in big trouble, i think this year going to be crucial and some of the android compni...