Apple's CEO Tim Cook is on an official visit in India, meeting up with the government and carriers to talk about the company's future in the country. Amidst those talks he went for an exclusive interview on NDTV, where he shared Apple's plans for making a move on the Indian market.
For one, Apple sees India as having an "enormously bright future" and it's one Apple wants to be a part of. "We're here for a thousand years" were the exact words. Tim Cook sees the rollout of 4G as key to both India's future and Apple's part of it.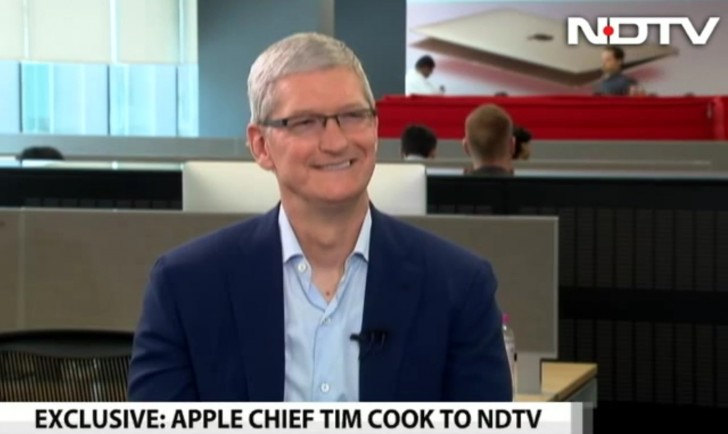 Tim Cook was clear that he sees talent in India, and it's talent that needs to be given a chance, hence the opening of the iOS app development accelerator, planed for next year. Additionally, several hundred million dollars will be put in the Maps development facility.
One challenge that the company is facing is bringing certified pre-owned devices to the country, which has so far been limited by government restrictions. And since that's the affordable entry into the Apple ecosystem, the low market share is partially a consequence of the lack of such a practice.
On the matter of ecosystem, which doesn't currently exist for Apple in India quite the same way it does in the US, Tim Cook said that the plan was to bring all of the existing services to the local market, and if new ones were found, unique to India, to develop those as well. Apple Pay, specifically, is also on the table, with talks going on with Indian banks.
Another issue to deal with is the India tax structure, which makes it difficult for carriers to sell products, and while iPhones are commonly sold by the carriers in the US and other parts of the world, in India it's third-party retailers' job. Related to this, Apple is also in talks about the future of Apple retail in the country, but the green-light hasn't been given yet.
Apple's CEO was clear that indianisation of the company will take place, unlike what many other companies have done to adapt to the local market. Apple remains a California company, no matter the market, is the summary of that topic.
Those were a few of the main points in the conversation, and you can watch an excerpt below. For the full interview, head over to the Source link on the bottom.
f
if you are not care your divices, you shuldn't complaint about it
p
CEO was clear from now on Apple will be doing business only ........ no more innovation
R
in my life 1st time I purchased on 9th may 2016 I phone 6. But by mistake phone following down within 3inches . Screen will be broken. Very cheap quality parts are using and the I phone service center people told me repair cast around 12.500rs but I ...
ADVERTISEMENTS