Tonight Apple presented the latest reincarnation of their iPhone OS, which brings new and exciting features to the already capable OS. Another significant change is that there will be 1000 new APIs that will give developers new possibilities to control the iPhone. AppStore changes and enhanced Bluetooth capabilities will also see daylight.
There are also over 100 new features directly available to the end customers including cut copy and paste. Here's a run down of the key ones.
System-wide Cut, Copy and Paste feature
Stereo A2DP Bluetooth streaming is on (not available to iPhone 2G)
System-wide landscape keyboard
A system-wide search Spotlight is added now including Mail, Calendar, Notes, iPod and web
There's now MMS support (not available to iPhone 2G)
Turn-by-turn navigation (but only with third-party maps)
You can forward and delete individual messages
Notes can now be synced with iTunes
WiFi auto-login for hotspots
Bluetooth peer-to-peer connection with file exchange and remote control (over Bonjour only)
Safari gets password login manager
Support for YouTube accounts and YouTube subscriptions
New action button in Photos lets you choose multiple pictures to attach to a mail message
There are Voice Memos, which can be edited, cropped and shared using email or MMS
Calendar gets Exchange support and will be able to sync with Google and Yahoo calendar services
Stocks app will be getting news stories and stock details
iPod gets shake-to-shuffle function
Anti-phishing tool in Mobile Safari
Increased number of supported languages
Parental Controls are extended to movies, TV shows and App Store content
Detailed Calls Log with call durations
iTunes store account creation
Proxy support
Live video and audio streaming
Internet tethering is now supported both via Bluetooth and USB(but available optionally)
Voice recording
Camera displays last taken picture in lower left corner - just as in existing Snapture app
And if you are interested how copy and paste works, here's how - a double tap on text auto-selects it with grab points appearing at both ends of the selection for finer tuning it and a cut/copy/past bubble above. A second double tap elsewhere brings up the Paste bubble. It works across all applications including web content in Safari - well it was about time. You can also shake the iPhone to undo: the action brings up an "undo" and "cancel" dialog.
The universal search application Spotlight is accessible by flicking the left of the first tab of the regular homescreen.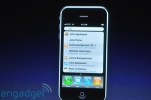 The new AppStore changes will include optional In-App Purchases, meaning paid apps will be able to offer users optional upgrades or modules directly from the application environment. Unfortunately, free apps will not be able to offer paid upgrades.
Bluetooth enhancements will allow communication between iPhones and iPods with no pairing procedure needed over the existing Bonjour protocol. And it's not limited to games - users can exchange contact details as well.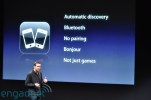 The new APIs would allow developers to link the core Maps data to new applications thus essentially embedding maps data to them.
There is even support for turn-by-turn navigation, but due to licensing reasons, Google Maps cannot be used for the purpose. Developers would have to use other maps data.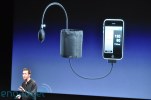 Next developers will be able to communicate with iPhone accessories, which are currently plugged in. For example, an application can control the plugged in FM transmitter by determining and setting up the best frequency instead of putting manual controls on the transmitter itself.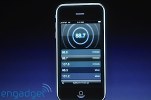 Another exciting option is creating medical accessories such as Bluetooth heart rate monitors or finger pricking Bluetooth glucose testers for diabetics.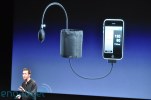 Unfortunately, apps like instant messengers are still not allowed to run in the background with the new 3.0 package. Instead the Apple's heavily overdue Push background notifications service is finally ready to launch - redesigned and upgraded to include support for various potential uses by developers.
The alerts supported by the service include changing of the app icon (addition of a counter icon badge), pop-up SMS-style reminders or sound alerts.
The Developer's beta version of iPhone OS 3.0 is available as of today and everyone that's participating in the developer's program will have access to it. End customers will get it too, but not before this summer.
In the mean time, iPhone 3G will be spreading to 15 more countries thus creating a wide users base for this upcoming free update. Original iPhone owners will also be able to get it for free and use it, but some features such as A2DP stereo Bluetooth or MMS won't work due to hardware differences.
iPod Touch owners will be able to upgrade to 3.0 for a one time fee of 9.95 US dollars. The second-gen iPod touch obviously has some Bluetooth functionality that can be unlocked with the new OS.
Unfortunately, Apple didn't make any hardware announcement at this press conference. If there is a new iPhone in the oven, we guess we won't hear about it before the end of June.
Despite the huge update, there's still no Flash support in Safari web browser, no video recording, and no real multi-tasking. What about those "little" things, Apple? Well... iPhone OS 4.0, we guess.
c
r u guys saying that we dont have the rights to own an iphone?r u saying that we cant enjoy our iphones?if the iphone doesnt have this simple features,you guys would probably say "what?no copy n paste no bluetooth no bla bla..i dont want this phone"b...
d
I'm using nokia E71 like I said, but i get iPhone just to see how it works since I get it in T-mobile for nothing. I have to say once more iPhone even if it's right now "half smart" phone with many missing function thera are many people who don't nee...
I
100 new features: video recording, probably on Iphone 4, phones had that 10 years ago, and this brilliant so called Extremely smart phone cant do the basisc photos: zoom, flash? iphone 3g, but I don't see how I cant have a video conversatio...
ADVERTISEMENTS