Apple dropped the "free" moniker from the apps and games in the App Store. Effective immediately, the "FREE" button on the apps and games that don't require payment will make way to a "GET" replacement.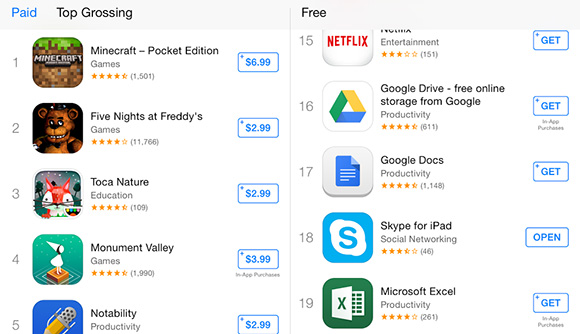 The move acknowledges the in-app purchases that many of the free apps and games often contain. Of course, the button applies to the content that is completely free as well.
Apple is the latest industry heavyweight to react to criticism to the free-to-play business model with in-app purchases, especially by regulators in the European Union. Critics have pointed that the aforementioned content delivery method often forces players into spending money in order to enjoy proper app or game experience.
The free-to-play business model is the current standard on both iOS and Android. The setup is responsible for 92% of all revenue on iOS and 98% of the same on Android. Curiously, most of the revenue comes from high spending users, whose money essentially provides for the experience of those who are not willing to part with any money.
?
Apple ap for hearts upgraded has ruined the game. Doesn't seem at all fair to player against computer players, win percentage is drastically reduced. Don't feel it is fair to player in cards dealt or played.
T
"Install" patented by Google
D
Whatever mobile OS you are a fan off, you managed to completely miss the point here. You also made what is possibly the most nonsensical comment of the week.... Anyway, I am glad Apple is removing the Free button for apps with in-app purcha...