The Dark Mode is not a new concept for the iOS. The rumors about a dark theme has been around for quite some time, but maybe it is finally coming for real with iOS 10.
Numerous references have found in the iOS 10 code and its developer kits. In fact system apps such as Safari, iTunes, Messages, iBooks, and Clock can be natively run in dark mode. This isn't available as an option on the iOS 10, but it's still fully supported by the platform.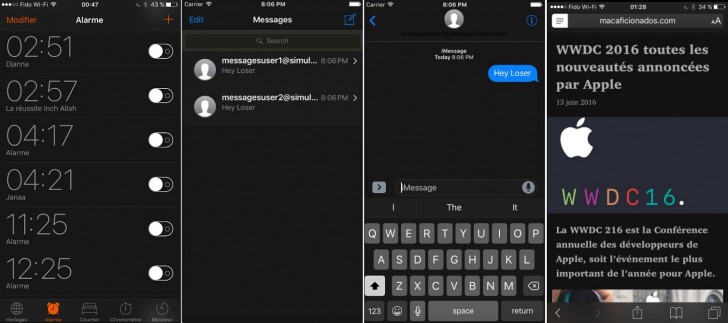 Apple didn't mention anything about a dark mode in its keynote or the upcoming days at the WWDC. There is a good chance Apple is readying the dark mode for a point release, just like the Night Shift mode came with the iOS 9.3.
Anyway, with all those proofs for the Dark Mode we are sure it won't be long before it becomes a part of iOS.
M
I do think the will present into the new iPhone AMOLED screen and dark mode will help a lot for saving battery.... just thought ;)
D
Maybe they didn't mention it in the keynote because it's called a Keynote for a reason, not an Everynote.
ADVERTISEMENTS