This article is outdated. We have already published a full review.
Introduction
It's June again, time for Apple to make headlines. The WWDC is over and the iOS 5 and the iCloud are now official. It won't be before the fall though that the iOS 5 will officially launch.
However, Apple has given us a taste of the iOS 5 by releasing a developer preview soon after the announcement. We went on to update an iPhone 4 with the beta release and we are ready to share our first impressions.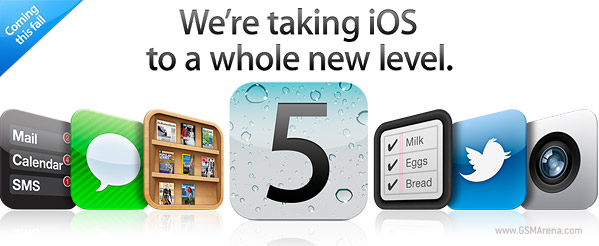 But before we continue, let's take a look at the most important features to premiere on the iOS 5.
Apple iOS 5 new features:
Notifications - real time on-screen notifications, lockscreen notifications and pull-down Notification Center
iMessage service in the Messaging app enabling instant messages to other iOS users
Reminders - including location-aware options
Customizable notification sounds - email, voicemail and calendar alerts
Twitter integration
iCloud service integration
Enhanced Camera app - viewfinder grid, hardware shutter key
Integrated photo editing - crop, auto enhance, rotate and red-eye fix
Updated Safari - tabbed browsing (on iPad), private browsing mode, integrated Reader, Reading list and optimized performance
Dictionary lookup throughout the interface
Computer free operation - independent activation, OTA updates, iCloud backup and restore
Wi-Fi synchronization with iTunes with automatic operation
New features in the Mail app - Bold, Italic, Underline and Quote options, extended Search, mass Mark as Read/Unread and Flag setting, Add/Delete mailbox folders
Updated Calendar and Game Center apps
Newsstand app combining all of your magazine subscriptions
iPod player now called Music, has new icon
Separate Video app for iPhone
AppStore purchase history (already available for iOS 4 too)
New Storage management options (list and info of all installed apps)
Multi-tasking gestures for iPad
AirPlay mirroring for iPad
New accessibility options involving the LED flash and custom vibrations
Typically, there's still plenty of stuff missing and some of the things will probably never make it to the iOS. Here is a list of the things we continue to miss:
Still missing:
No Flash support in the web browser
No quick toggles for Wi-Fi, Bluetooth and 3G
No Facebook integration
No proper widgets for the lockscreen
App folders still are limited to 12 apps tops
No DivX/XviD video support out of the box (though there're lots of players in the App Store)
No USB Mass storage mode for uploading content to the device
No haptics for the touchscreen
No Bluetooth file transfers to other phones
Contacts lack a swipe-to-delete or mass delete feature
Well, the list is notably shorter than last year's. It's debatable though whether Apple listened to the users or just filled their time with low-priority features that have been on the list for quite some time. Either way, some of the new stuff is quite good so let's waste no more time on introductions. Follow us on the next page where we start to explore the iOS 5 at close range.
a
apple your comany is very well i love apple phones please you have to change to screen all i phone small sreen small hand set your have to change big sreen please do it
v
XQPQkv happpy to see that! yes
t
I stopped updating my iOS after an update last summer deleted three and a half months of my business-related calendar entries and Apple refused to even acknowledge the problem. Apple can bite me!