This article is outdated. We have already published a full review.
New Mail app
The Mail app used to take a lot of stick but most of the missing features have finally made it into the iOS.
If you open your Inbox and hit the Edit button, you now have a Mark key alongside Move and Delete. You can now mass mark emails as read/unread or flag them as important.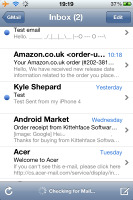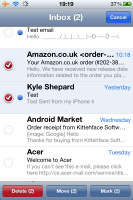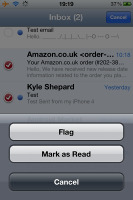 The new Mail options - Mark as Read/Unread and Flag
Apple also added Bold, Italic and Underline font styles to the text editing options as well as quote font size levels. Text selection works the usual way (tap&hold&select) and the available options will appear as soon you've made the selection: Cut/Copy/Replace/Bold Italic Underline/Quote Level. Quote Level will increase / decrease the font size of the text you're quoting.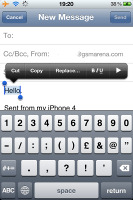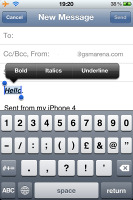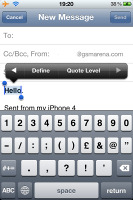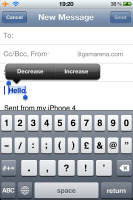 Mail formatting - bold, italic, underline • Quote levels
You can also add or delete Mail folders now - just hit the Edit button when you explore the email account.
Twitter integration
Social network integration has been a long-requested feature on iOS devices, but why limit it to Twitter only? Well, we may have a few theories as to why Facebook is missing from this list. Now about that Twitter integration.
There is a separate Twitter tab in Settings. You can sync your Twitter contacts to the phonebook or you can search your existing contacts for matching Twitter ID's. Another addition is a Tweet option in the Share menus across the UI (Maps, YouTube, Safari, etc.) next to Email, Print, MMS, etc.
Are we the only ones that find this popup way too big already? Just kidding.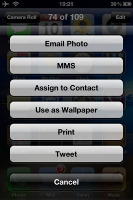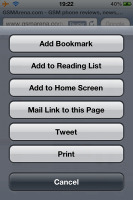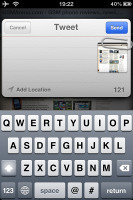 Twitter integration in the gallery and Safari • Tweeting a picture
You can manage multiple Twitter accounts.
The new camera app - grid, swipe for gallery, pinch to zoom
The Camera app has been enhanced with a viewfinder grid, an HDR setting, pinching gesture for digital zoom, a new excuse for the lack of a proper hardware shutter key and swipe gesture for quick gallery access.
All fine and dandy - but making the volume key double as a camera key is more like guerilla tactics used by third-party hacks to make up for the missing hardware feature. But when a manufacturer himself resorts to a rather makeshift solution as this hack, it does little good - other than the fact that they own up to a mistake. Secondly, we still remember Apple banning a certain Camera app for enabling this function.
The last thing we found that Apple didn't give enough credit in their elaborate presentation is that a swipe to the right on the camera viewfinder opens the last picture taken. A swipe to the left in turn brings back the camera's live view instantly. Perhaps the reason for laying low on this one is it's an honest rip-off from the Windows Phone 7 camera app. Still, it's one neat feature and we love it.