iMessage service - free messaged between all supported iOS devices
Here is another useful thing premiering with the iOS 5 - the iMessage service, which is integrated into the Messages app.
The iMessage service lets you exchange instant messages between iOS 5-running iGadgets via Wi-Fi or 3G. You can send plain text as well as multimedia (pictures, sounds, videos) messages.
To activate the iMessage you just need to go to Settings->Messages and turn it on. But how does it work?
You tap on the new message button and you'll see the standard message composer with a green SEND key. When you choose a recipient you'll notice a small loading icon right next to the name. If the person you are texting has the iMessage service, your SEND key will turn blue and the top bar will say New iMessage instead of New Message. Yes, it's all automatic.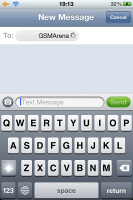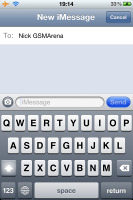 Searching for iMessage availability • switching to iMessage
The rest is pretty simple - you type, you add content (optional) and hit send. The iMessage conversations are color-coded to differ from the standard SMS/MMS - their bubbles are blue instead of green.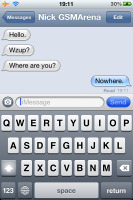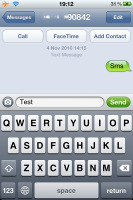 An iMessage conversation • standard SMS thread
The iMessage service is essentially an IM - in an iMessage conversation you can see when the other person is typing and you get their messages instantly. You can also get Read Receipts.
One more thing about iMessage - your ID is either your phone number or your email - just as in FaceTime.
Telephony - same old phonebook, new sound alerts, FaceTime email identification
The phonebook has seen almost no changes and there is still no smart dialing in the dialer (you have the system wide Spotlight search for that).
A new thing is the Related people field in the phonebook. Unlike the iOS 5 beta though where it allowed you to add labels such as mother, father, parent, brother, sister, child, friend, spouse, partner, assistant, manager and other, the iOS 5 final version offers only three - spouse, assistant and manager.
Another new thing about the telephony on iOS is that finally, the mail, voicemail, calendar and reminder sound alerts are customizable.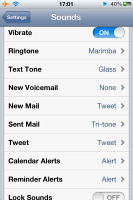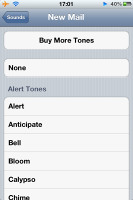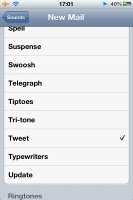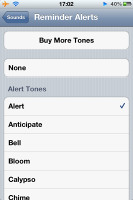 Customizable tones for various alerts
In case you don't like the provided tones and you don't know how to make one yourself, you can now choose Buy More Tones directly from the sound settings. You will be redirected to the iTunes Tones Store (the iTunes app) and you can buy whatever tones you like there. It's that easy, if you are lazy enough to pay for ringtones.
FaceTime on the iPhone also gets a new feature. If your carrier does not support FaceTime, you could still activate it with your email as ID. It's done automatically if the activation with phone number fails. Just make sure you are connected to a Wi-Fi network and turn the FaceTime on from Settings.
You can also choose your FaceTime ID - even if you use email activation, you could still use your mobile phone number for identification.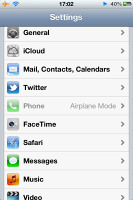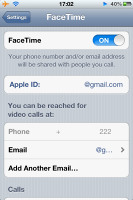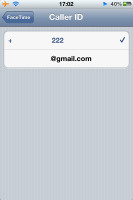 FaceTime settings • FaceTime ID
New Mail app
The Mail app used to take a lot of stick but most of the missing features have finally made it into the iOS.
If you open your Inbox and hit the Edit button, you now have a Mark key alongside Move and Delete. You can now mass mark emails as read/unread or flag them as important. Unfortunately, a "Select All" option is still missing.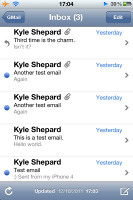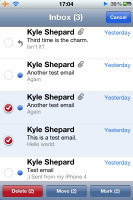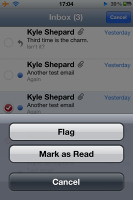 The new Mail options - Mark as Read/Unread and Flag
Apple also added Bold, Italic and Underline font styles to the text editing options as well as quote font size levels. Text selection works the usual way (tap&hold&select) and the available options will appear as soon you've made the selection: Cut/Copy/Replace/Bold Italic Underline/Quote Level. Quote Level will increase / decrease the quote symbols before the text you're quoting.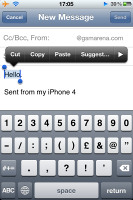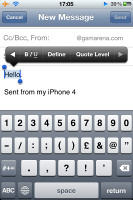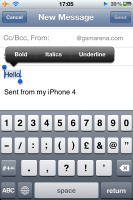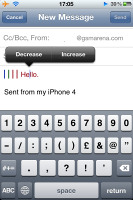 Mail formatting - bold, italic, underline • Quote levels
You can also add or delete Mail folders now - just hit the Edit button when you explore the email account.