Accessibility gets better
Apple has added a few new accessibility options that may be helpful even for those who are not actualy disabled. The iPhone may now use the LED flash for alerts and you can assign and even create custom vibration patterns to specific alert events or contacts – much like you would assign a personalized ringtone.
The Assistive Touch is also a useful accessibility feature. By activating it you get a new on-screen key that stays available throughout the UI, even on the lockscreen and in games. It's shaped as a homescreen icon and offers a few useful menus.
You can easily move the key in one of the four corners of the screen at any time. Tapping on it reveals four shortcuts – Gestures, Device, Home, Favorites. Every shortcut, except the Home key, opens another submenu.
The Gestures shortuct allows you to simulate two, three, four or five-finger tap. The Device shortcut will allows you to rotate the screen (if available), lock the screen, manipulate volume controls and even simulate a device shake.
In the Favorites section you have Pinch gesture shortcut and you can additionally assign six more custom gestures. You just need to perform them once so the iOS can save them.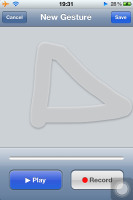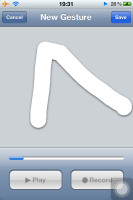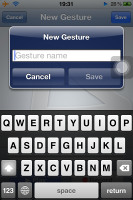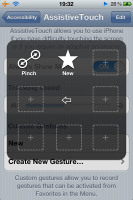 Creating a new gesture • the gesture menu
The Home virtual key has the same functionality as the hardware Home – you can single/double/triple tap it to get what you need from the iOS.
The Assistive Touch is a pure accessibility option that helps you control everything in the iOS with let's say just one finger. It's certainly more usable on the iPad because on the large screen the dot doesn't get in the way as much as it does on the iPhone.
iCloud
Now, let's pay due attention to the iCloud. What is it, how you set it up and what you get?
iCloud is Apple's cloud-based content management - the service, which comes free with iOS 5 will further reduce the need of a PC/Mac and iTunes. Effortless syncing and backup/restore - along with pushing content to all devices associated with your Apple ID.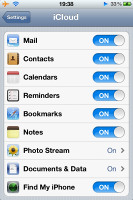 You iCloud account and settings - you choose what to sync
Apps and iCloud
Until now you synced all your apps with a single computer and its iTunes. If you had more than one iDevice you've done two (or more) separate sync processes. Well, this is no more.
You've probably noticed the new Purchased list already in the App Store's Update tab. Now Apple knows exactly what apps you've purchased, what you have installed on an iDevice and what you've deleted for some reason. Apple knows this for each one of your iDevices.
So if you chose to sync with iCloud, Apple will sync only the app's personal data, not the entire IPA file (as iTunes did). Here is an example:
You have Angry Birds installed on your iPhone. It has a save data of 1.5MB. Apple will sync only this file. If you delete the game and later install it again (free, from the Purchased list), your iPhone will download the original IPA from the App Store and will get back this 1.5MB file too - a lot more natural process to sync an app rather than keeping the whole image. If you use an app as USB storage (Filer or even CineXPlayer), then the whole content will backed up (have that in mind).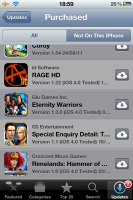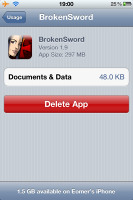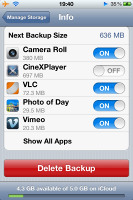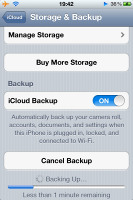 The Purchased list in the App Store • The app data • The actual app data iCloud will sync • iCloud syncing
There is one more thing with the iCloud app sync - when you buy a new app, it will be pushed to all of your iDevices automatically (if available and if you have enabled this feature from the AppStore settings).