iCloud syncs everything
The iCloud is capable of syncing all your contacts, calendar events, books, photos and documents. The content will become available on all your iDevices automagically. The iCloud stores new photos automatically for 30 days, enough time to connect your other iGadgets so they can get the photos too.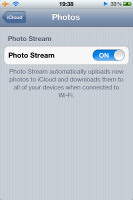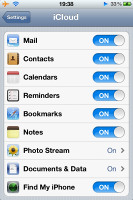 Activating Photo Stream will backup your latest photos • you choose what to backup
iCloud offers free email at @me.com
iCloud offers free me.com email that will also sync automatically across all your iDevices. You will be offered this when you activate the iCloud for the first time and the setup process is done in one easy step.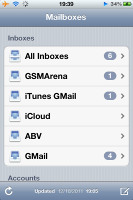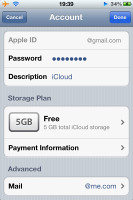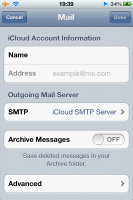 iCloud Mail • iCloud Mail settings
iTunes Match
Music syncing is probably the trickiest part of the iCloud sync. Along with the tracks purchased from the iTunes store you surely have a collection of your own (ripped music, etc.) that you sync with your iOS device via iTunes. Well, Apple is now offering a service to sync both collections in one place.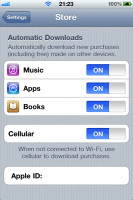 Activating the iTunes music sync
The music you've purchased from iTunes Store will be easy to sync automatically across all your iGadgets - it will sync the same way the other content syncs. But you will need to use the iTunes Match service for the rest of your music collection if you want it synced too.
iTunes Match will scan your collection and sees if your songs match to songs in the Apple's iTunes Store (currently 18+ million songs and growing). If there is a match, the iTunes song will be synced, if not - well, Apple will upload this song on its servers for further sync. Pretty cool, isn't it?
So the iTunes scans yours songs and push them to all your other devices if they match. If some of your songs are with lower quality than 256Kbps, the iTunes will download the song with better quality (256Kbps). The iMatch service costs $25 per year and seems unique in the music store world. It will become available soon for the US users and later in more countries.
iCloud Backup and iCloud Restore
You can back up your iPhone/iPad/iPod Touch with the iCloud. It will store all of your settings and other important stuff, so if you need to restore wirelessly (if you got a new device for example) - it's the easiest way. The backup is automatic and is done every time your device is charging, locked and connected to a Wi-Fi network.
You can restore your iGadget from iCloud, but first you need to connect it through iTunes, perform a standard restore procedure (downloading and reinstalling the iOS) and then chose the iCloud restore option.
5GB free storage, up to 55GB with a paid subscription
Apple gives you 5GB free storage for iCloud sync. Now this may sound not enough for you, but actually it's more than enough. Your purchased music, apps and books don't count in this storage (except the app's personal data such as saves, settings, etc.). So the things that eat that storage are app's data, contacts, mail, photos, calendar events, backups and personal documents. Of course, there is an option to buy more iCloud storage - you can get 10GB additional storage (to those 5GB) for €16 per year, 20GB more costs €32/year or you could opt for 50GB additional storage to your free 5GB for €80 per year. Refunds are available too.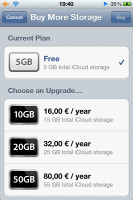 You have 5GB free iCloud storage
Find My Friends app
The app Find My Friends, that was announced a week ago at the Let's Talk iPhone event, has also become available into the Apple App Store. It is free and compatible with both the iOS for iPhone/iPod and iPad.
The app allows you to share your current location always with trusted friends or temporary with not-so-trusted ones. It works both ways - you can see your friends' location too.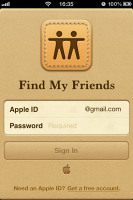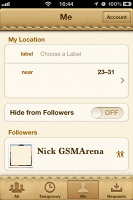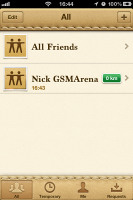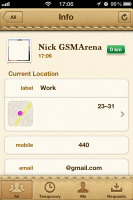 The app offers a few options - to see your friend on the map and get directions to that place (redirecting you to the Maps app though). The Find My Friends app interface also shows you the distance between you and your friends.
There is an option to hide your location when needed.