New Maps - TomTom takes over from Google
Apple has finally done it. TomTom replaces Google as their supplier of maps and the entire Maps app has been redesigned.
An assortment of sat-nav apps has long been available in the app store (for a fee), with no other than TomTom having a prominent place on the list. They now supply the maps for Apple's own service, which comes with turn-by-turn voice guidance, real-time traffic updates, local search, Yelp reviews and the impressive Flyover 3D views.
The navigation will work even on the lockscreen or behind another app. Real-time traffic reports are available and Apple is also sourcing the live traffic info anonymously from iOS users on the road.
The 3D Flyover mode is a great bonus for your viewing pleasure. When you enable the 3D view (outside navigation) you will be able to explore cityscapes from birds-eye view. The currently available selection is extremely limited, but hopefully more areas will be added later on. You can zoom, tilt and rotate using two-finger gestures to explore 3D landmarks rendered in real time.
PassBook
The PassBook is a new e-ticket app that handles all kinds of electronic tickets (including boarding passes), loyalty cards, coupons, etc.
The location-aware app makes the right coupon available in the right place and at the right time. The PassBook will report the balance on coupons and cards, let you check your ticket seats and can even show you relevant notifications (e.g. gate or terminal change for a flight).
Updated Safari browser
Apple has done some work on the Safari browser too. It is now faster than it was on the iOS 5 - you can see in the benchmark scores below.
SunSpider
Lower is better
iPhone 4S iOS 5.1.1
2237.1
iPhone 4S iOS 6 beta 1
1751.3
BrowserMark
Higher is better
iPhone 4S iOS 5.1.1
89054
iPhone 4S iOS 6 beta 1
109145
HTML5test.com
Higher is better
iPhone 4S iOS 5.1.1
324+9
iPhone 4S iOS 6 beta 1
360+9
A cool new feature is the full-screen view - it has a dedicated button on the taskbar and works only in landscape mode.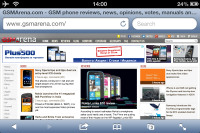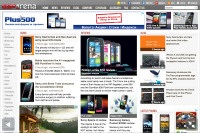 The landscape full screen view
iCloud tab syncing is enabled, along with offline reading. Finally, the new Safari allows access to your multimedia content without exiting the browser.