Apple has just released the iOS 6.1.2 update for all iOS 6-compatible iGadgets.
The OTA update weighs just 12.6 MB and according to Apple was delivered to fix a single bug. Here is the official changelog:
Fixes and Exchange calendar bug that could result in increased network activity and reduced battery life.
We are not really sure if it also addresses the issue that lets you bypass the iPhone passcode lockscreen, as Apple never really acknowledged it.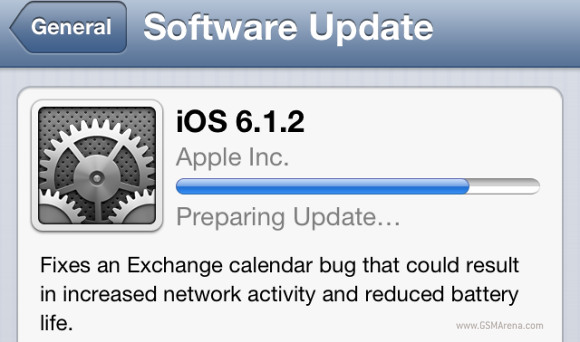 The update is out already and you can download it right now. According to Apple's database, the update does not bring any security fixes so jailbreakers must be safe. We still suggest those users to double check this info though.
Update, 20 Feb: Evasi0n 1.4 is now available for download and it will jailbreak iOS 6.1.2 as easy as the previous versions.
K
Why the battery desnt tell about battery cent apple updates still have issue with 3G! Apple still stay with many problem after go to the new ios .....
f
After this update a new option appears in the cellular menu for LTE but you lose the option to switch to just the 2g network in case if you want to preserve your battery life, secondly this update comes with a new bug in which your time still last fu...
D
was also waiting for that one but nooooo apple is busy busy. Check the apple forum it must be over 10 pages with people reporting 3G issues....
ADVERTISEMENTS