Introduction
Depending on where you come from, the iOS 7 may be the bigger, and better, piece of news than the new iPhone duo. Certainly true if you have the iPhone 5 and you intend on holding on to it, unfazed by what looks like a dilemma between a marginal upgrade and a candy-colored downgrade.
It's not about the phones though. Not yet. There's two of them for a change, which means Apple will be keeping us busy with double the usual amount of hardware to review. However, we cannot ignore the fact that we took the first glimpse of the new iOS 7 this summer as a sign - a promise? - of a better, new exterior design to come.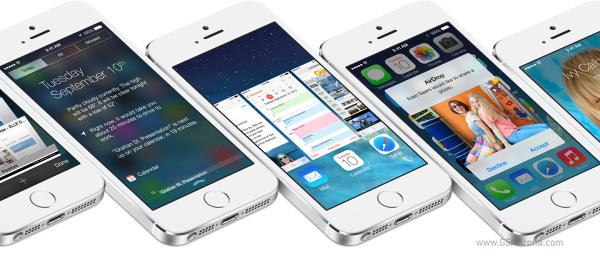 Yes, we liked the iOS 7 and, as it's about to start hitting the iPhone 4, 4S and 5 on September 18, we're taking a closer look at what's the biggest overhaul of the platform since it debuted in 2007. What makes it different this time is that we're not focusing on the new stuff but exploring the OS head to toe.
Let's start with a closer look at the list of features.
Key features
Complete UI overhaul with adaptive colors and system-wide Back swipe gesture
New system icons and folders, animated icons available
System-wide parallax effect
Dynamic wallpapers
Control Center with toggles, multimedia controls and shortcuts
Updated Notification Center with three tabs
New adaptive multitasking with new card interface, background refresh of apps and services
Updated Safari browser with unified search filed
iTunes online radio service
AirDrop file sharing
Inclinometer within the Compass app
Camera filters with live preview and new square mode
New Photos app with better photo organization, picture editing
Weather app with live weather animations
Updated Maps with Night mode and Turn-by-Turn walking directions
New Siri interface, new supported commands, new voices
Contact Blacklist
FaceTime audio calls
Activation lock
Automatic app update
Cellular data usage breakdown
Chinese-English, Italian, Korean and Dutch dictionaries
iOS in the Car coming in 2014 in selected cars
Main disadvantages
Heavily iTunes dependent for uploading files and multimedia
Segregated file system means you often have to duplicate files to access them through various applications
No widgets
Air Drop works only between selected iOS 7 or later running devices
No lockscreen shortcuts (besides those in Control Center)
Very basic camera UI with limited features and settings
Limited video codec support for the built-in player
No Smart dialing in the dialpad
iTunes radio only works in US Apple IDs at launch
We know many of our readers are impatient to see what kind of difference the 64-bit A7 chipset is making and excited about the return of the fingerprint scanner to the mobile world. But while we wait for a review iPhone 5s to arrive, let's explore the final version of the iOS 7.
The dynamic wallpapers and parallax view, along with live icons and the agile use of transparency are all part of the new design language but there's more to the iOS 7 than the modern aesthetics.
From a functionality perspective, Apple finally has connectivity toggles organized within the new Control Center, an iTunes radio streaming service, the notification center has been completely redesigned, there is AirDrop for easy sharing between different iOS devices, and an even more capable Siri.
Of course, there are still features missing. And those will be duly noted as we go along. This review is based on the Golden Master build, made available to developers ahead of the full-scale release to the general public, and we have it running on an iPhone 5.
D
Apart from that, I really do not understand how can a company force its customers to change a product so much from the state it was originally purchased without giving to the possibility to restore it to the configuration it was at the date of purcha...
D
Well, I have two identical iphones and I upgraded iOS 7 only on one: after several months use my conclusions are the followings: 1- iOS 7 drains 35% more battery than iOS 6; 2- iOS 6 is 30% faster than iOS 7; 3- iOS 6 is by far clearer than iOS...
D
I want to buy iPhone 4S or 5. But i want to know should i buy with iOS6 or iOS7 as i heard there are issues currently with iOS7. Please help & advise