New camera UI, filters with live preview now available
The camera app has been completely rewritten. There are four modes available - Video, Photo, Square and Pano. There is no dedicated switch for those, you need to swipe to get to the desired camera mode.
There are no image settings besides the flash and HDR toggles, but there are 8 filters with live preview available for the Photo and Square modes - Mono, Tonal, Noir, Fade, Chrome, Process, Transfer and Instant.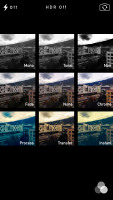 Filters with live preview are available in Photo and Square shooting modes
You can use filters and take square photos with the front camera as well.
The camera supports AF/AE lock as usual with tap and hold on the viewfinder. There are no resolution settings though, nor are there video resolution options.
Connectivity - AirDrop, iCloud, Activation Lock, iOS in the Car
There is one new feature in the iOS 7 connectivity department - AirDrop. It's a system-wide file sharing service between supported iDevices. AirDrop needs to have both Wi-Fi and Bluetooth on to work.
AirDrop is available in every share menu throughout the iOS 7. You can send pictures, videos, App Store and iTunes links, Notes, Maps links, all kind of files from file managing apps (i.e. Filer, Flash Drive, Air Disk, etc.), Office docs, and more.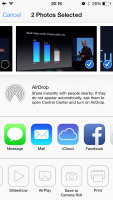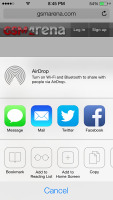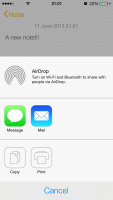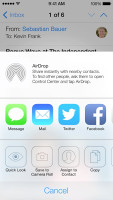 AirDrop in Photos, Browser, Notes, Mail
If there are people with AirDrop service around you, they will automatically appear in the dedicated AirDrop field. You just mark your files, select people and hit the send key.
AirDrop won't work with other phones and PCs, but will work on Macs running on OS X Mavericks.
Apple is continually improving its Find My iPhone service. The latest iOS 7 updates it with the so-called Activation Lock. This will not only protect your personal data but also make your iDevice inoperable once wiped unless you enter your Apple ID. This means the stolen or lost iGadgets will be of no use to thieves or finders.
iCloud was an integral part of iOS 5 and is present here in iOS 7. It syncs all of your important data between all of your devices running iOS 5 or above.
You get 5 GB of free storage but you can buy more if you want. Selecting which apps to sync is pretty easy. iCloud even remembers each device you've backed up so you can restore them separately if you wish. You can naturally delete older backups to free up space.
Apple has records on exactly what apps you've purchased, what you have installed on an iDevice and what you've deleted for some reason. Apple keeps tabs on this for each of your iDevices.
So if you chose to sync with iCloud, Apple will sync only the app's personal data, not the entire IPA file (as iTunes did). Here is an example:
Say, you have Angry Birds installed on your iPhone. It has a save data of 1.5MB. Apple will sync only this file. If you delete the game and later install it again (free, from the Purchased list), your iPhone will download the original IPA from the App Store and will get back this 1.5MB file too - a lot more natural process to sync an app rather than keeping the whole image. If you use an app as USB storage (Filer or even CineXPlayer), then, by default, the whole content will be backed up too, eating your backup quote quite fast.
There is one more thing with the iCloud app sync - when you buy a new app, it will be pushed to all of your iDevices automatically (if available and if you have enabled this feature from the AppStore settings).
Apple has announced a new connectivity mode that will be supported in a wide range of vehicles, starting in 2014 - iOS in the car. You will be able to see your iPhone screen on your compatible car display. And you will be able to control it via your car controls or just tell Siri via your car audio system what it is you want it to do for you on your iPhone.
You will be able to use navigation, dictate messages, make calls, play music or iTunes radio, and more.
Among the confirmed car manufacturers to integrate the new service are Honda, Mercedes, Nissan, Ferrari, Chevrolet, Infiniti, Kia, Hyundai, Volvo, Opel, Jaguar and Acura.
Safari browser gets unified search field
Apple has finally updated the Safari browser. Yes, it got flat looks and 3D tab switching, but that's just the beginning.
The first thing you'll notice is the unified search/address field. These are no longer two separate fields.
The next long-awaited feature is the fullscreen mode in portrait view, which auto-hides the browser controls. Open in background handy options premieres as well.
Safari finally supports more than 8 simultaneously opened web tabs. We quit trying to reach the new limit (if there is one) at around 22. The tab switching interface is a 3D arc where you swipe a tab left or right to close it. You can rearrange the tabs, you can add new ones or switch to private browsing. It's certainly looks good but it's a departure from the flat design language seen elsewhere on iOS7.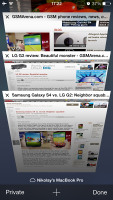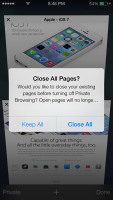 The tab switcher • switching to Private browsing
When you switch to private browsing, you'll need to either close all current tabs or migrate them to Private as well. It's not possible to have private and non-private tabs open simultaneously like in Google Chrome. When you are browsing in Private mode, Safari switches to a dark gray color scheme.
When you open your History you'll find a new tab called Shared Links. Here you'll find all links from your Twitter timeline, with authors and comments.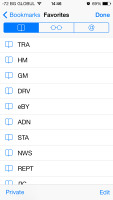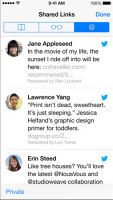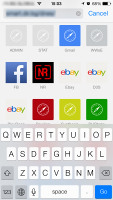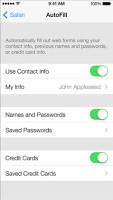 Bookmarks • Shared Links • Suggested links • Safari settings
Safari in iOS 7 supports an in-device keychain, which stores store all of your passwords and credit card info (sans the security code). There is also a password generator available, in case you are out of ideas. As of iOS 7 Gold Master release, the mobile keychain does not sync to your Mac's keychain so these vaults remain separate and you would have to input the login information twice.
iCloud syncs your opened tabs however, along with offline reading. Safari also allows you access to your multimedia content without exiting the browser.
Much like before, if a page is compatible with the integrated Reader (most of the article pages out there are) you get a Reader button right into the address bar as soon as the page loads. The Reader strips the webpage of ads and makes the layout and fontsize more suited to a smaller phone screen. And best of all, if you are reading a multi-page article (such as our reviews) getting from one page to the next is automatic as soon as you scroll to the end.
You can set the font size via two controls at the top, and also there's a built-in dictionary to look up unknown words.