Siri accepts more commands, has new voices
A new iOS version just can't afford to pay no attention to Siri. After more than two years in development the assistant has finally graduated from beta.
Just as the rest of the iOS 7, Siri now looks different. It always launches in full-screen and has a real-time voice graph. Another UI novelty is the option to edit your voice request with the keyboard in case Siri didn't hear you right.
Siri supports and uderstands English (American, Canadian, Australian, British), French (France, Canada, Switzerland), German (Germany, Switzerland), Japanese, Italian (Italy, Switzerland), Spanish (Mexico, Spain, US), Mandarin (China, Taiwan), Korean, and Cantonese (Hong Kong) languages.
The most important Siri upgrades, of course, are under the hood. Siri now has Twitter and Wikipedia integration and it offers new voices, there is both female and male English US for example.
Siri can also carry out commands affecting the iOS - it can turn Bluetooth or Wi-Fi on/off, increase brightness, play voicemails, check other people's social network status, play iTunes Radio stations, etc.
Siri is a really powerful voice assistant capable of POI search. Assistance with restaurant booking is part of Siri's set of skills. It will find you exactly the restaurant you are looking for and filter the results based on user reviews. You can run impressively detailed searches based on food type, location, outdoor, pool, price range, ratings, etc. This feature is not available in every country, though.
Siri also answer slots of questions and isn't limited to game scores. History, stats, player bios, player comparison, teams, records, etc. Siri should be able to return most of the info right onto its own screen, without switching over to the browser. The same applies to movies. You will get all of your movie-related answers right inside the Siri window - anything about actors, directors, awards, movie stats, premieres and tickets, reviews, trailers, etc.
Maps and Navigation
Apple has replaced Google with TomTom as map provider for the iOS native Maps application. It also offers voice-guided navigation courtesy of Siri. The navigation will work even on the lockscreen or in the background. Real-time traffic reports are available and Apple is also crowdsourcing the live traffic info anonymously from iOS users on the road. Sadly, there isn't an option to pre-cache maps for offline use, which can be a problem if you need guidance abroad or when you don't have signal. Still, if you set up a route when you have internet access, Maps will cache the maps needed to guide you along the way so you can finish your trip even without an internet connection.
As of iOS 7, the navigation service also includes turn-by-turn walking directions.
The 3D Flyover mode is a great bonus for your viewing pleasure. When you enable the 3D view (outside navigation) you will be able to explore cityscapes from birds-eye view. The currently available selection is quite limited, but more and more areas are joining Flyover in time. You can zoom, tilt and rotate using two-finger gestures to explore 3D landmarks rendered in real time.
When Maps launched with iOS 6 it was quite a disappointment because of its poor map data, but Apple managed to deal with most of the problems and lack of data and accuracy.
In case you prefer the good ol' Google Maps, it is available for free in the App Store and is on par with its Android version. You get voice navigation where available, offline map caching, Street View, etc.
App Store now has automatic updates, nearby apps
The iOS App Store is still the richest application store to date. It uses a tabbed interface.
A Featured pages with scrollable rows is available as well as the usual Charts (Top Paid, Free and Grossing apps), Search and Updates. There is on new tab that replaces Genius - Near Me, which we'll cover below.
iOS 7 brings one more feature that users have been asking for - automatic app updates. Once you turn it on in the App Store settings, your apps will update automatically (via Wi-Fi only) and you'll get notifications for the completed updates in the notification center.
If you decide to use the automatic app updates, the Updates tab in the AppStore will display a list of all recent updates.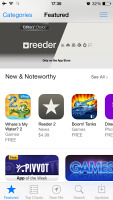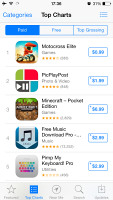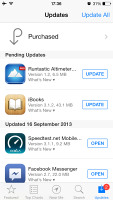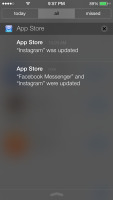 App Store with new UI, nearby apps and automatic updates
The App Store offers another new feature - Nearby apps. Here you'll find the most popular apps people have downloaded in your current location.
The App Store has a new hidden extra that will be appreciated by those using iTunes gift cards. You can now scan the card codes with you camera right in the App Store interface.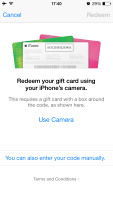 You can redeem codes with your camera
As usual you can view all the apps you've bought on your current iDevice or previous ones through the Purchased menu in the Update tab. iCloud plays a key part here - all of your purchased apps from each device show up and are ready for download.
The iTunes store is where you get music, videos, TV shows, movies, podcasts and ringtones. It has a similar tabbed interface like the AppStore divided into Music, Movies, Search, Tones and More.
Music syncing is probably the trickiest part of the iCloud sync. Along with the tracks purchased from the iTunes store you surely have a collection of your own that you sync with your iOS device via iTunes. Apple is also offering a service to sync both collections in one place.
The music you've purchased at the iTunes Store will be easy to sync automatically across all your iGadgets. But you will need to use the iTunes Match service for the rest of your music collection if you want it synced too.
iTunes Match will scan your collection on the computer and check for matches with songs in the Apple's iTunes Store. If there is a match, the iTunes song will be synced, if not - well, Apple will upload this song on their servers and then sync.
So iTunes scans yours songs and pushes them to all your other devices if they match. If some of your tracks are of lower bitrate than 256Kbps, the iTunes Store will replace them with higher quality (256Kbps). The iTunes Match service costs $25(US) or €25(EU) a year.
The Game Center gets a new look
Honestly, the Game Center has always looked awful. Apple finally did something about it and we like it.
The Game Center offers pretty much the same functionality - it has your games, your friends and your challenges.