Final words
Like all things Apple, there is no way that everyone will love the new look. It's always like that with major redesigns - even if everything about the new look was perfect, there would always be a large group of people to hate it for various reasons. What matters is though, this time we get a completely new design aesthetic and a host of cool new features that really make a difference from a user perspective - exactly what Apple used to stand for at its best.
In its 7th iteration, the iOS is well past the stage of incremental revisions and finally looking fresh again. Most of it is eye-candy really - maybe too much for some people, and a welcome excuse for others to voice their displeasure with the new OS.
In terms of visuals, the parallax effect and transparency in menus are quite subtle and stylish. They're design elements that will make sense and go well with the overall conservative styling of the iPhone 5, and by extension 5S. The icons though are a bit too much perhaps. We couldn't help the thought that the new iOS 7 was designed with the colorful iPhone 5C in mind. We can't be certain of course, but it may as well be the other way around - which is a compliment for the interface.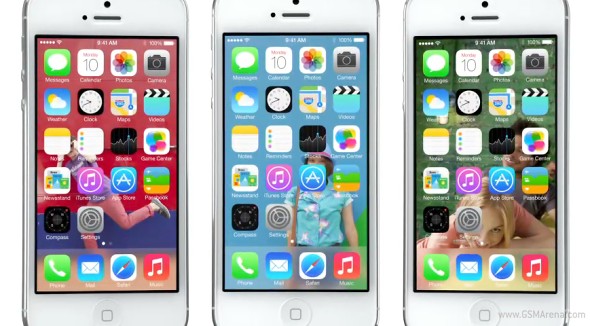 As for features, the iOS 7 has over-delivered - considering we're talking Apple after all. The adaptive multitasking allowing more user control than ever before, the new Control Center with toggles and the swipe-to-go-back in submenus and even the updated Notifications are worthy additions for sure.
As we tested the iOS 7 on an iPhone 5, it's worth noting that the response is a tad slower compared to how the same thing behaved running iOS 6. In all likelihood, it's more down to the new animations taking a fraction of a second longer, rather than an actual system lag. This will probably be a non-issue for the iPhone 5S and its new hardware. As usual, Apple has its way of showing you that your devicehas come of age now (even if you've only had it for several months).
Of course, the new design and features will inevitably be compared to competing platforms but, weary comments about how long others have had this and that aside, it looks like the hardware (read iPhone 5S and 5C) has more to worry about the comparisons than the software, which at this point seems a job really well done.