Introduction
It's the kind of thing to be happening in a galaxy far, far away. Apple opening up iOS to developers, while Google is moving towards an Apple-like unified experience across platforms and screen sizes. The simplest way to put it is that Material Design comes a year after the visual overhaul of iOS 7 - if anyone wants to see a more than just chronological relation they very well can.
Anyway, with the re-design delivered, iOS 8 (still a developer beta) goes back to work under the hood - in a continued bid to catch up to Android - not so much in terms of features (certainly not content) but flexibility in dealing with third-party apps and extensions. One of the highlights is Apple's U-turn on one of their most conservative policies.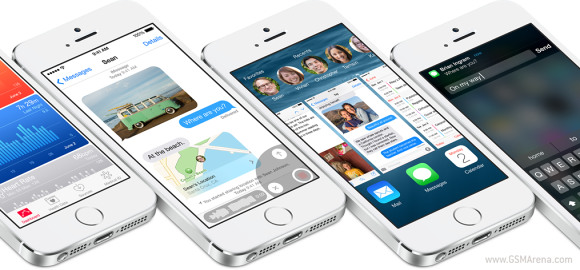 The company has finally given the developer community a more open access to the platform and unlocked many popular core capabilities. Having been granted access to over 4000 iOS APIs, third-party apps will integrate with the Notification Center, Sharing and Action menus, Keyboard, Photos app, among others. Even TouchID is expected to be opened up, potentially making the fingerprint scanner a really big deal.
iOS 8 is trying to polish an already elaborate and attractive user interface and improve the performance with more intuitive menus, better Spotlight, Family Sharing options, iCloud Drive, better keyboard, better Photos, etc. The Handoff feature between iDevices and Macs is a big thing as well.
Let's try and summarize all the new additions to iOS 8:
Key features
Third-party widgets in Notification Center
Third-party sharing options and actions within system apps
Third-party keyboards, adaptive default one
Handoff support with Mac OS X Yosemite - continuity from any iOS 8 iDevice to Mac OS X, instant automatic hotspot, SMS/MMS/iMessages and voice call handover
Safari: plugin support, Private Browsing per tab, bird-eye tab view for iPad
Camera: Instant Burst Mode, Time-Lapse, separate focus and exposure, Panorama for iPad
New Photos app with smart editing, search, third-party filters
Better Spotlight with automatic internet suggestions from popular services such as Wikipedia, Maps, IMDb
Improved Siri with voice activation, Shazam integration, 24 new dictation languages
Refined UI in multi-tasking, Mail, Messages, Music
Health pack
Updated App Store with category browsing, Beta apps, Bundles
iCloud Drive with 5GB of free storage
Family Share - share and control content across Apple IDs using the same credit card, children app purchase requests
Battery usage per app statistics
Tips app
Integrated iBooks with auto night mode, Book Series support
Rich Text Editing in Notes
Wi-Fi calling support
Travel time notifications
FaceTime call waiting
TouchID fingerprint sensor to be available to third-party apps
Improved accessibility, In Case of Emergency card, TouchID to exit Guided Access, Braille keyboard
Flyover city tours
Enterprise easy setup
China gets lunar calendar, turn-by-turn navigation, better weather data
Main disadvantages
STILL very much dependent on iTunes for uploading files and multimedia
No common file storage shared between apps
Air Drop works only between selected devices running iOS 7 or later
No lockscreen access to third-party developers
Limited default video decorder support
The app-specific file storage is still an annoyance and so is iTunes being your only means of file upload (the cloud is an option but not a solution). To be fair, these are things users of Apple's mobile devices can obviously live with and perhaps see nothing wrong - but it's a fact that competing platforms don't impose this kind of limitation.
With the new tools made available to developers, there may be clever ways around that - the benefits of the opening up of the platform could go beyond the day-to-day interaction with the device and the performance. We'll know in a couple of months.
For now, let's concentrate on the novelties in iOS 8, which will be available this fall for the iPhone 4S, iPhone 5, iPhone 5c, iPhone 5s, iPod Touch 5, iPad mini, iPad mini 2, iPad 2, 3, and 4, as well as the iPad Air.
DISCLAIMER: This preview is based on the currently latest iOS 8 beta 4, which we installed on an iPhone 5s. Hence it only reflects the changes made with this release of the beta iOS program. The final release of the iOS 8 is expected in the fall of 2014.
D
i upgraded my iPhone 6 to 8.3 sometimes back now the keyboard click sounds are too low that you cant even hear at all. the headset sometimes having issues after connecting and answering the call which makes the other party not hearing me properly. th...
s
Iphone series is best bt these phone has not longer time battery or in dual core processor. . Apple should need to change its processor and make some powerfull battery which gives long battery backup..