User interface
The user interface is where Apple sufficed with just a few finishing touches. Having gone through a complete overhaul last year, there wasn't much to change.
Apple iOS 8 looks the same as its predecessor. All of your apps are on the homescreen, folders are available and there is the familiar dock that can take up to four shortcuts. System icons, color themes and transparency - everything is like we left it in iOS 7.
The lockscreen hasn't changed either - there is a camera shortcut, playback controls are available too if the Music app is active. If you think the lockscreen could use some shortcuts or widgets, your only hope is for Apple to open up the lockscreen to developers too - but that's not on the cards on this release.
The Control Center that's pulled up from the bottom of the screen, has been slightly redesigned though it keeps the same layout of toggles, shortcuts and media controls.
The Notification Center has changed a little bit more. The All and Missed tabs are now gone, replaced by a unified Notification tab. The Today section has been improved and you can jump to its editing options from the bottom of the page.
The interaction with the pop-up notifications has been improved. Now you can quickly reply right inside the notification banner, discard calendar alarms, mark tasks as complete, comment and like on Facebook, among others.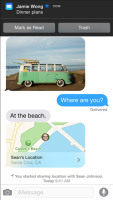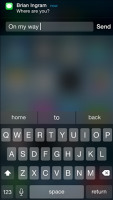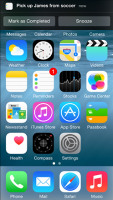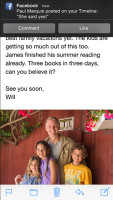 Interacting with popup notifications
While the refined Notification Center might look insignificant, it is among the places expected to make a big difference, in terms of usability, once iOS 8 starts seeding. It has been unlocked to developers and various widgets will premiere on the platform this fall. Basically, every app developer will be able to use the Notification Center for interactive widgets.
The Task Switcher got an extra row at the top - a list of your recently contacted Favorites followed by your recent contacts. A tap on a contact here will reveal additional options: call, message.
Apple made a big deal of the Spotlight update - the unified search tool now supports smart suggestions. Spotlight is now capable of pulling suggestions from Wikipedia, IMDb, an assortment of news sources, nearby places, App Store and iTunes content, iBooks and more. This is indeed a tremendous usability boost. By the way, suggestions work within the Safari browser too.
Another notable improvement over the previous iOS version is enabling developers to add their own sharing options or actions in the iOS contextual menus. For example, if you have an app that sends files over Bluetooth, it can integrate with the iOS contextual menus and there you go - you get standard Bluetooth file sharing in just one click. You can edit the available sharing options and actions in these menus, so they don't get cluttered.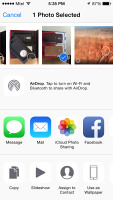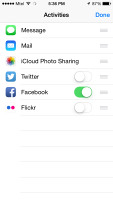 This is where the new sharing and action plugins will appear
Apple has finally added battery usage stats in the Settings menu. There you can find which app drained your battery and how (low signal, background usage, etc.). You get daily and weekly stats.
iOS 8 brings a very familiar user interface and logic of operations with minor improvements towards better customization. We've yet to see how this will turn out once the developers start offering various interactive widgets, sharing options and actions, but the platform should benefit a lot.