Handoff and continuity
The new Handoff option is probably the most advertised iOS 8 feature. It allows you to start something on one Apple device and continue working on it on another. For example, you can start writing an email on your iPhone, get close to your Mac or iPad and you will be able to continue what you are working on from there. This works between iOS 8 running iPhones, iPods and iPads and Max OS X Yosemite powered Macs.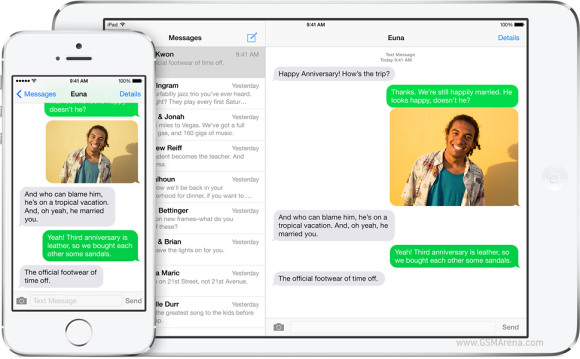 And it goes beyond emails and messages. The continuity feature is available for Safari, Maps, Reminders, Calendars, Contacts, Pages, Numbers and Keynote.
Any Wi-Fi enabled iOS 8-running iPad or a Mac OS X Yosemite is also capable of picking your iOS 8 iPhone calls up. You can answer and make calls on your iPad or Mac via your iPhone thanks to the Handoff feature - the only other requirement besides the OS version is that all devices need to be on the same Wi-Fi network.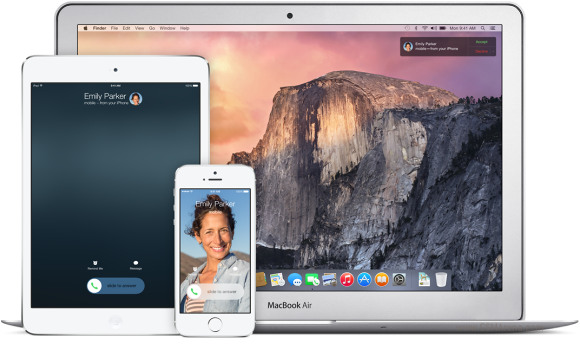 Apple guessed that anyone making calls via Handoff will eventually need to send SMS/MMS/iMessages the same way, so the functionality has been implemented. Just open your Messaging app on your iPad or Mac and you can send whatever message you want thanks to your iPhone connection.
Finally, there is a new Hotspot feature that once enabled will automatically set up a mobile connection for your iPads and Macs. You don't need to do anything! Your iPhone will know when your iPad or Mac stop using the hotspot and will automatically turn it off.
Phonebook and Dialer
The iOS 8 phonebook and dialer interface are untouched, though now you can opt not to show the contact photos in your Favorite tab. Everything else stays the same.
Apple will be offering a new feature called Wi-Fi calling. If both parties support this service and it is on, the call won't be placed through the cellular network but the internet. This will perhaps improve audio quality and won't count against your allotted monthly minutes. Finally, FaceTime is getting a new functionality too, Call Waiting.
Messaging
The Messaging app comes with a refined interface too. Now it's easier to attach pictures or video with the newly introduced recent row. It has about 20 of your latest images/videos in the gallery.
If you are texting someone with iMessage activated, you'll see a new Mic icon on the right. A tap and hold on the Mic will record a voice message and an upwards swipe will send it. If the person on the other end is on an older iOS version they will receive it as an .amr attachment and still be able to play it.
The Mail app got a subtly refreshed interface too with some extra useful functions and gestures.
Keyboard
The iOS 8 keyboard looks the same though it has been upgraded with predictive input called QuickType. Over time, the iOS will learn from your typing pattern, vocabulary, people you write often to and topics. It will eventually understand the subject of each thread and base suggestions on whether the communication is formal or casual.
Apple promises a really smart algorithm that understands everything and knows what to say. Many competitive keyboards on other platforms are already doing similar things plus they are swype-enabled. While we find the new keyboard indeed useful, we are really waiting for the Fall when developers will be able to release their own keyboards that will replace the default Apple one. Swiftkey has already announced it will be among the first to launch a keyboard.
We are happy with Apple's decision to allow replacing the default keyboard and we are looking forward to all those new third-party options. And it's Apple after all, so the safety of your personal data shouldn't be a massive concern either.