iCloud Drive
Another upgrade that was well overdue is iCloud Drive. Apple has taken steps to evolve your iCloud Storage to a competitive cloud service to match Dropbox or OneDrive.
Besides backing up your entire camera roll instantly synced in the cloud and accessible from anywhere - your other.
You can store any file on the iCloud Drive, not just pictures and videos, as any other services would allow you to. The Handoff feature relies heavily on the iCloud Drive - this is a document you've opened on your iPhone would be handed over to your iPad or Mac. If you don't use iCloud Drive this file continuity wouldn't be possible.
Naturally you can choose what files and app data gets synced in your iCloud Drive. There is an option to choose cellular data where a Wi-Fi connection isn't available.
Unfortunately, Apple is still only giving 5GB of cloud storage for free and some of it is already used by your iCloud backups. If you want more, you'll have to pay extra.
Photos and Camera
One of the highlights of the last WWDC presentation was the new Photos app. Apple has upgraded the default gallery with a new Search option. The smart suggestions implemented within the new Spotlight and Safari browser work here too. You can search by place, date, people, nearby location, etc.
There is a new default album called Recently Deleted. It stores your recently erased photos for 30 days before deletes them for good. Each photo shows the days remaining until deletion. It works like a recycle bin and, of course, you can restore the files you want.
One of the major new additions to the Photos app is the new integrated image editor. It supports standard features such as crop, rotate and filters, but it also offers advanced settings allowing full control over light (exposure, highlights, shadows, brightness, contrast, black point), color (saturation, contrast, cast), black & white (intensity, neutrals, tone, grain). In case you aren't into meddling with your photos, you can use the new intelligent Auto Enhance feature, which will do things automatically.
If your iCloud Drive is active you can gain access to your cloud gallery and browse it on your iDevice without the need of storing it locally. If you have opted to store everything in your iCloud Drive, you can save precious space (those with 16GB of storage on their iPhones should know best) and still have access to your images and videos. You'll need a working internet connection, of course.
The Camera app has been upgraded with two new modes - Time Lapse and Burst. Time Lapse captures 1920x1080px frames every few seconds to produce a 1080p video.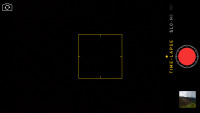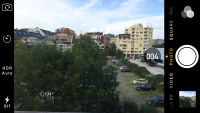 Time Lapse and Burst in the Camera app
In Burst mode, upon a tap and hold of the camera shutter, the iPhone will be snapping pictures until you release. Every burst series is shown as one in the Photos app until you decide to expand it. Then you can select the one or few photos to keep. You can opt out of uploading burst sequences into the iCloud Drive until you've chosen the keepers.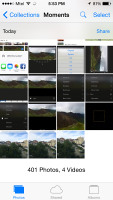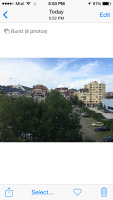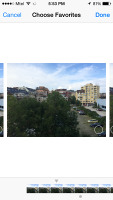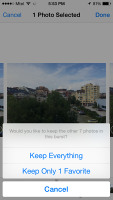 Burst images in Photos app - browsing and choosing what to keep
Apple has unlocked its Camera API to developers, which means third-party apps will be able to use the original camera features and algorithms. That may mean more advanced camera tricks after the iOS 8 launches.
Safari gets plugins
The Safari web browser welcomes third-party developers too. It now supports extension access via its contextual menu. They will be able to auto-fill forms, use the Touch ID security features and translate webpages. It's up to the developers to come up with creative uses and hopefully we'll get a lot of those at launch.
Other than the Safari extensions, Apple has improved its Private Browsing. It's more intuitive now and won't make you convert all of your currently opened tabs into Private ones.
As we mentioned in the user interface chapter, the smart suggestions from Wikipedia and the App Store/iTunes Store work within the Safari browser, too.