The stores
The Apple App Store for the iPad gives you a lot of choice with more than 80 thousand apps specifically tailored for the iPad's 9.7" screen and many more for the iPhone that the iPad can emulate.
Developers are quick to catch up to the iPad's enormous resolution but we're already seeing titles being update to support the new Retina display - Infinity Blade II, Real Racing 2 HD, Evernote to name a few.
The App Store hasn't changed compared to previous versions and it's easy to navigate.
The separate iTunes store offers music, movies, podcasts, while the iTunes U app delivers university lectures, keynotes, verbal courses and a lot of other interesting stuff.
The great thing about the iTunes Store is that it offers a huge collection of content and you can preview pretty much anything - be it a short preview of a song or a movie trailer. You can also decide on buying movies or just renting them.
Photo Booth and Facetime
iPad comes with two camera-related apps - Photo Booth and FaceTime.
The Photo Booth is almost the same as the Mac OS X Photo Booth - you can use the front or the rear camera to take funny pictures of yourself or a friend. There are only 8 different filters here, but the results are pretty funny nonetheless. The only downside is that using the front camera (which is more natural) gives you VGA-only (0.3MP) results.
The app has very simple interface - you have nine squares where you can see the actual filter applied in real time. You choose a filter and tap on it. Now you can take a picture, change the camera or review/delete your previous Photo Booth photos.
The FaceTime video-calls became quite popular among Apple fans, so it is no surprise you can facetime on the new iPad. Luckily, Apple won't charge you for the FaceTime app (like it does on the Mac OS X).
As usual the FaceTime calls work fine, you just need enough friends with FaceTime-capable iGadget and a good Wi-Fi connection.
What we didn't like particularly is that currently the bandwidth allows for HD calls only, which frankly look really low res l on the Retina display. The iPad's front-facing camera cannot go beyond 720p anyway so we doubt FullHD video calls will be possible any time soon.
Retina-ready apps
We were able to test out a couple of apps that we're already updated to bring you full Retina support on the new iPad.
Flipboard is one of them - it's a great way of viewing your personally-relevant internet content without ever opening the browser. It gives you a book-like layout with swipeable control and you can share what you're reading or view it with the in-built browser.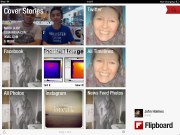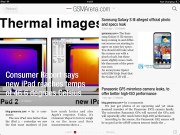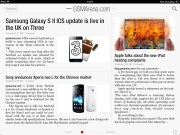 Flipboard for iPad
Infinity Blade II was featured in the iPad announcement keynote and for good reason - it brings incredible graphics and in full Retina-ready splendor. Visual effects are rich, shadows are deep, textures are very detailed and the game is a joy more for the sight of it than the gameplay itself (which is pretty good too, by the way).
Comics is a great app filled to the rafters with titles you can buy and enjoy on your iPad. It features over 20 thousand comics, graphics novels, etc. from publishers like Marvel, DC and others. It's a real joy to use on the iPad's Retina display, especially if you're viewing color-dense pages.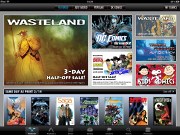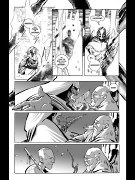 Comics app that takes full advantage of Retina
More and more apps will implement Retina support and we hope it happens fast because due to the amped up resolution apps that aren't optimized look really poor.
Apps
YouTube is available as a standalone app on the iPad.
iBooks is Apple's dedicated Ebook slash PDF reader. It also comes complete with Apple's online iBookstore with thousands of titles available.
The interface of iBooks remains unchanged and is pretty great - all your books or PDFs are organized on a virtual scrollable bookshelf. You can set the font size you want, choose to have a sepia, white or black background, define a brightness for the screen, search for books, etc.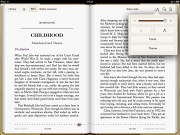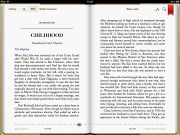 iBooks options • Bookmarking a page
While in a book you can highlight text, leave a note, bookmark, check a word with the built-in dictionary and finally, browse through all of your notes and highlights in any book at any given time which is really neat for book junkies or students.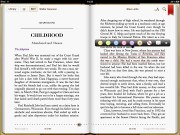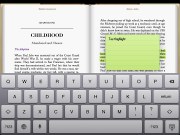 Highlighting text • Entering note
Still not every book you're interested in is available in the iBookstore - Harry Potter and The Lord of the Rings sagas are just the tip of the iceberg - this could be a major deal-breaker for users that want the iPad as an e-reader above all.
The Retina display on the iPad ensures you'll get picture-perfect text at your fingertips but keep in mind that reading on a backlit display is nothing like reading on an e-ink display - your eyes will tire quickly.
Finally, we come to Newsstand - it's a folder-like application on the homescreen, which acts as a virtual magazine shelf. You can download magazines and papers, and subscribe to have the latest issues seamlessly downloaded to your iPad. It's a pretty nifty app and all of the major magazines are available as paid downloads.