Improved camera hardware and software
The Apple iPad Air keeps the camera from the previous iPad - a 5MP shooter that can record 1080p video. The only thing that has reportedly changed is that the sensor has benefited from an improved backside illumination technology.
The front-facing FaceTime camera has not changed much either, it offers the same resolution, but the sensor size is slightly larger thus offering slightly bigger pixels and hence offering a slightly better low light performance.
iOS 7 brings a brand new camera interface with some cosmetic changes (it's flat) and it's more usable. On the iPad, all the controls are combined in one column - a front/back camera toggle, an HDR toggle and the virtual shutter key.
The iPad Air has three shooting modes you can move between by swiping up and down on the screen, you can't just tap the labels (even thought they are certainly big enough). The modes are Video, Photo and Square - there's no panorama, nor is there a 120fps mode like on the iPhone.
Square photographs have, of course, been popularized by Instagram and so have photo effects. That's another thing missing on the iPad Air camera app though, no color effects. You do have Photo Booth, which shows a 3 x 3 grid with live preview of the effects, but you have to exit the camera.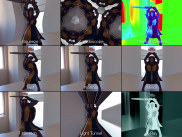 Filters with live preview are available in Photo and Square shooting modes
The camera supports AF/AE lock as usual with tap and hold on the viewfinder - this can be of great help with tricky scenes. There's no geotagging on the Wi-Fi only iPads, as they don't have GPS.
The image quality is very good for a 5MP shooter and better than the previous iPad for sure. Noise is kept well under control. The noise reduction does smear out some detail, but sharpness is good enough. White balance is pleasing (it leans slightly towards warm) though color rendering is off. It's an excellent camera for a tablet - it gives you good enough photos in those emergency situations when you just have nothing else at hand.
We also snapped an HDR sample with the camera. This mode enhances highlights but makes little to no difference in the shadows. Also note that the noise levels go up a bit.
Apple iPad Air photo quality comparison
Of course, you can check out how the iPad Air does in our three standard charts against its predecessor (iPad 3, 4 and mini, the iPad 2's camera was sub-1MP) and a few others in our database.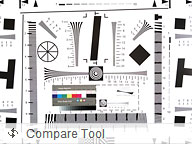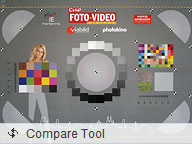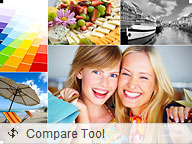 Apple iPad Air in our photo quality comparison tool
Video camera
The iPad Air's camera records 1080p video at 30fps, which is the most popular option at the moment, even among smartphones. Note that the front-facing camera doesn't have enough resolution for 1080p, so you'll have to make do with 720p for video selfies.
During video recording you can change the focus point and zoom, but there's no option to snap a photo (that option was very limited on the iPhone so we don't miss it).
The standard 1080p videos @ 30fps are captured at a bitrate of 17Mbps, which is about average for Androids too. Most disappointingly, the iPad Air continues to capture mono sound (64Kbps, 44.1kHz) just like its predecessor and the iPhone 5s. Why Apple refuses to do stereo sound in video is beyond us.
The video quality is great - videos are smooth, have no noticeable noise and manage a good level of detail. The videos carry over the warmer white balance of the still photos, but saturation is low, which throws off the color accuracy. There's no pixilation or jumpy continuous autofocus, which are our most common complaints for other mobile cameras.
Video quality comparison
Our video compare tool is another great place to check for differences in video quality between the iPad Air and last year's model, plus all the other tablets we've tested.