Just as planned, the Apple store is back up today and it has some new goods to offer. The company's latest tablets are now available on pre-order and you can book your unit for next week shipment right away.
The iPad Air 2 will start at $499 for the 16GB just as before. Just as on the iPhone, the 32GB version is now gone and the 64GB version will be at $599. A 128GB iPad Air 2 is also there for $699. You can get LTE on each storage version but it will cost you $130 extra.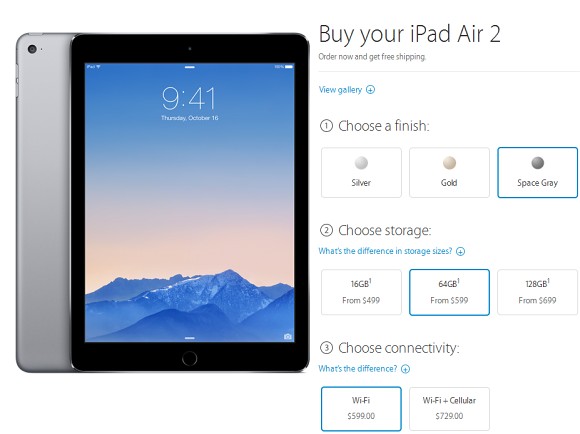 As usual European prices aren't quite as attractive (although the difference is smaller than with the iPhone). In the UK the Apple iPad Air 2 goes for £399/£479/£559 for its three versions, while LTE support adds a further £100. In Germany you need to pay €489/€589/€689 plus €120 for Cellular connectivity. Across the border in France prices go slightly higher - €10 extra for each version.
The Apple iPad mini 3 is available in the same three storage options as its bigger brother - 16GB, 64GB and 128GB. It's priced at $399/$499/$599 ($130 extra for LTE) in the US, £319/£399/£479 (plus £80 LTE charge) in the UK and €389/€489/€589 (€120 for the LTE) in Germany.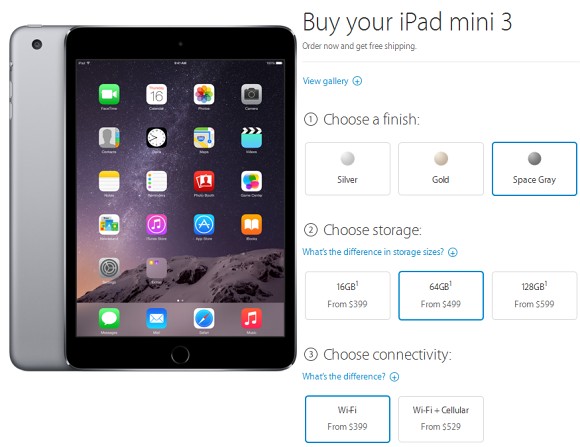 Going by the specs alone the Apple iPad Air 2 looks like an upgrade worth considering with its new 6.1mm profile, laminated display and beastly A8X chipset, but the mini 3 is merely a TouchID enabled version of the mini 2 that also comes in gold. Your thoughts on the duo are welcome in our comments section.
S
plz don't buy any Apple product .they sucks
D
Fk this apple things its always the same when it comes to phones but for tappets the iPad was the best in the market but not for now Nexus 9 they killed it completely , nexus 9 now is the best quality on the market . iPad mini 3 , iPad mini 2 iPad...
N
Actually iPad's screen is made with a special glass that is Scratch resistant and Dust resistant it is also Oil resistant unlike those Android tablets that it will collect dust especially in the edge corner, it is really disappointing to Android tabl...