Apple made the iPad Air 2 and iPad mini 3 official today at a special event. This, however, doesn't mean that their respective predecessors will not be sold anymore.
In fact, the original iPad Air from last year and the iPad mini with Retina Display (also known as the iPad mini 2) will stick around and serve as cheaper alternatives to Apple's new slates. Surprisingly though, even the original iPad mini from 2012 will still be available.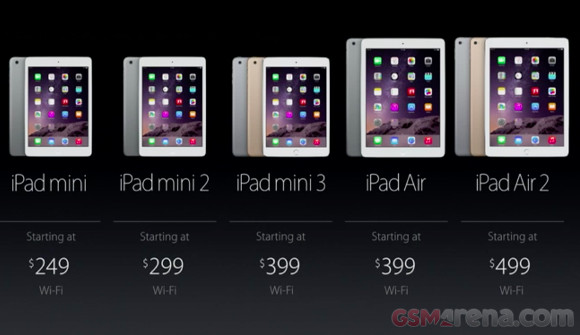 This will be the most affordable of the bunch, going for $249. The iPad mini 2 will set you back $299, so it's going to be $100 less than the new mini 3. Over on the Air front, to get an original iPad Air you'll only need to shell out $399, and again that's $100 less than the new model.
Following this move, Apple will effectively have a five tablet lineup on sale, something that has never happened before.
j
I would love to have the ipad 2
D
Your reply has no relevance to my post. ARM tablets are never win8.1 and you know that perfectly well. If you wanna make a rant of why laptop/x86 tablets are better then do so in a separate post, dont involve me in your change of topic. Read again, i...
D
Huh... store.apple.com/ph immediately lowered their price to php 15,490 for the $299 device. The brick and mortar stores should have done the same and if they didnt its not Apples fault.