One for the road
Apple iPad mini review: One for the road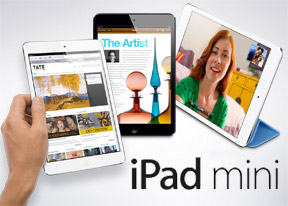 Loudspeaker performance
The iPad mini is the first Apple iOS device to feature stereo speakers. Unlike the dual-grille iPhones the mini actually features two speakers underneath a single grille. The change is immediately noticeable - music and videos sound deeper and richer.
We would've preferred the speakers to be further apart though. It would've made more sense it they were on each side of the iPad mini as the stereo effect would be far more pronounced this way. Ideally, all tablets will have front-facing stereo speakers on each side of their displays, but that might go against Apple's design policies.
We performed out loudspeaker test on it and it scored a Good mark. We don't see many people using the iPad mini as a playing station but it will do for the occasional movie on the couch.
| | | | | |
| --- | --- | --- | --- | --- |
| Speakerphone test | Voice, dB | Pink noise/ Music, dB | Ringing phone, dB | Overal score |
| Amazon Kindle Fire | 66.6 | 63.7 | 66.9 | Below Average |
| Apple iPhone 5 | 66.8 | 66.1 | 67.7 | Below Average |
| HTC One X | 65.1 | 66.0 | 75.8 | Average |
| Asus Google Nexus 7 | 68.6 | 65.9 | 75.8 | Good |
| Samsung Note II N7100 | 70.0 | 66.6 | 80.5 | Good |
| Motorola RAZR XT910 | 74.7 | 66.6 | 82.1 | Very Good |
| LG Optimus G | 74.6 | 71.3 | 82.7 | Excellent |
| Samsung Ativ S | 73.7 | 73.5 | 82.7 | Excellent |
You find more details on the testing process here.
iMessage and mail
iPad mini comes with iMessage - it lets you exchange instant messages between iOS-running iGadgets (running iOS 5 or above) via Wi-Fi or 3G. You can send plain text as well as multimedia (pictures, sounds, videos) messages. The app stores all your messages within threads and offers options for mass delete and forwarding. There is a search field, MMS support (if you choose to attach a multimedia file) and character counter. iMessage gives you delivery reports too.
The iPad mini probably won't be your primary device for chatting on iMessage but it's very convenient that when you have an ongoing conversation on an iPhone you can simply continue it on your iPad.
Email supports multiple accounts (configurable in the Settings app) and offers Universal Inbox (showing all your mail at once). The Mail app also supports threads, email archiving and quick lookup of documents thanks to the integrated document viewer. There is also an Open With… option, offerings to handle your files with some of your installed apps (PDF reader, mobile office, iBooks, etc).
In portrait mode the left bar with all your emails remains hidden until prompted while in landscape you get both the inbox/emails bar visible and the email you've opened is on the right.
You can set a VIP list, and emails from people on the list will be delivered to a dedicated VIP mailbox and will appear highlighted in your standard inbox. You can also set a different notification regime for VIP emails - so they appear on the lockscreen, for example.
If you open your Inbox and hit the Edit button, you now have a Mark key alongside Move and Delete. You can now mass mark emails as read/unread or flag them as important. Unfortunately, a "Select All" option is still missing.
Bold, Italic and Underline font styles are added to the text editing options as well as quote font size levels. Text selection works the usual way (tap&hold&select) and the available options will appear as soon you've made the selection.
Text input
The Notes app is exactly the same as before. You get the familiar split-screen layout with the notes you've saved on the left and the note edit screen on the right.
Your notes are also synced with iCloud so you won't have to worry about losing any of them.
Siri-powered dictation is available in Notes, Email, iMessage and any app that supports it. It works just like on the iPhone 5 - hit the corresponding button your keyboard and start dictating.
The keyboard on the iPad mini is exactly the same as on the larger iPads and knows the same tricks. You can undock the keyboard, which places it dead center on the screen. You can then move it up or down, depending on what's underneath and where you would like to place it.
You can also split the keyboard in two by doing a simple pinch gesture on it or selecting it from the keyboard options. This feature was most useful on the 9.7" iPads but it's still nice to have here. You can adjust the position in split mode too.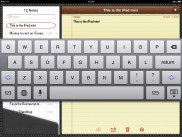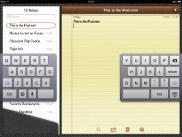 Undocking and splitting the keyboard
We found the iPad mini to be the most comfortable for typing of all Apple slates. Even in the default docked position handling the keys with both hands in portrait mode is pretty easy.