Moving up the ranks
Apple iPad mini 2 review: Moving up the ranks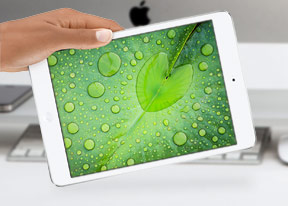 Introduction
The iPad mini with Retina screen is everything the little tablet deserved to be - a more compact equal of the bigger iPad with no compromises made. And unfortunately, it's just one thing short of what we all thought a compact tablet should be - cheap. Well, Apple isn't exactly known for selling cheap, it's quite on the contrary.
Last year's iPad mini was more of a byproduct of the iPad lineup - with a significantly cheaper price, a different design and somewhat inferior hardware, the baby iPad was quite different to its full size sibling. This year marks a shift in Apple's product strategy. Now, the two new iPads are equals - with the mini being merely a scaled down version of the same spectacular screen tech and the same high-performance internals.
There's been no corner cutting this time and the new iPad mini is more expensive as a result. We guess the price hike comes only to highlight the iPad mini's new standing in the pecking order - it's no longer the budget option - it's the more portable version of the same flagship product. A lower price point would have also hurt the big iPad sales because the two tablets are not at all that different.
You would actually be amazed how identical the two look. But that's a good thing in a sense. Users no longer have to pick one of the two based on feature set or design, or bezel size for that matter. Now, you can just pick the size that's right for you. The high-end user experience is all there without any give or take.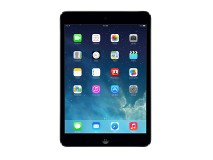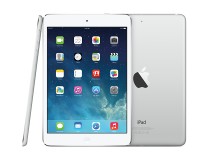 Apple iPad mini 2 press photos
Comparing it to its predecessor, the Apple iPad mini with Retina screen looks no different either, but that's until you turn it on. The new screen is impressively sharp and the new chipset is blazing fast, meaning loading times in most apps are noticeably faster now. The Wi-Fi speeds have doubled, there is a seriously bigger battery inside, there is a second mic for noise cancellation and now you have a brand new 128GB version, if you've got the money to burn - the last generation iPad mini maxed out at 64GB.
Key features
7.9" LED-backlit IPS LCD touchscreen, 1536 x 2048 pixels, ~ 324 ppi, oleophobic coating
Wi-Fi 802.11 a/b/g/n connectivity with MIMO dual antennas
Optional 2G/3G GSM, CDMA, LTE connectivity (data only, separate models)
Optional GPS with A-GPS support (for the Wi-Fi+Cellular model only)
Dual-core A7 64-bit 1.3 GHz Cyclone (ARM v8-based) chip with M7 motion coprocessor
PowerVR G6430 quad-core GPU
1GB of RAM
iOS 7 with gesture support and a premium set of free Apple apps - iLife, iMovie, iPhoto, etc.
16/32/64/128GB of inbuilt storage
Weight of 331g (341g for the Wi-Fi + Cellular option)
Bluetooth 4.0
Lightning USB port
Stereo speakers
Accelerometer, compass and three-axis gyro-sensor
5MP auto-focus camera
1080p video recording at 30fps
1.2MP 720p secondary camera capable of FaceTime calls
23.8 Wh Li-Po battery
1080p TV-output with the Apple Digital AV Adapter (purchased separately for $49), 1080p video streaming or separate audio streaming via AirPlay
Supports magnetic cases
Main disadvantages
Expensive for a compact tablet
Non expandable memory, extra storage is largely overpriced
Tied into iTunes for uploading most of the content
No standard USB port
No GPS receiver in the Wi-Fi-only version
The new iPad mini is exactly the same size like last year's with a mere .3mm difference in thickness. You wouldn't feel that sort of difference even if you had both in your hands. What you may notice is the difference in weight. The new iPad mini is 23g heavier to accommodate the larger battery, which should deliver the same endurance despite the quadrupled resolution.
The new dual-core 64-bit A7 chipset inside the new mini jumps two generations ahead of the A5 processor in the original. It's not that the older mini was sluggish, but the new device is notably faster and more responsive in almost all apps we tried.
Last season's bigger iPad at least had the luxury of being more powerful but those days are gone. Now the two size of iPads have equally good specs, which kinda puts the iPad Air in a sticky position. It's true that the bigger Air is easier to carry than any other full-size iPad and the slimmer frame helps single-handed operation but there's no avoiding the fact that the iPad mini is the friendlier form factor.
The iPad mini's handling and portability could be the big decider for a lot of people who are eyeing a new iPad for Christmas. To be honest, we don't think Apple will mind no matter which one you pick.
Yet, it's still up to the mini to prove itself as a true equal to the big gun. And so it will. Join us ahead where we intend to subject it to every test we have around our test lab. This shorty will not be getting off easy, we promise.
?
İt's so beautiful bro I promise
j
how to get whatsapp in ipad mini 2? if link devices also cant download document
T
Cannot get WhatsApp Bought from Dubai