7.9" Retina display
The Apple iPad mini 3 display is identical to the one on the iPad mini 2 - a 7.9" IPS Retina display of 2048 x 1536px that break down to around 324ppi, a nice pixel density for a slate. In fact, it's the same resolution as the one on the iPad Air 2, so the pixel density is higher than the one on the bigger iPad.



Apple iPad mini 3 display • the iPad mini 3 and iPad mini 2 displays
Here's what the iPad mini 3 display looks like under our digital microscope.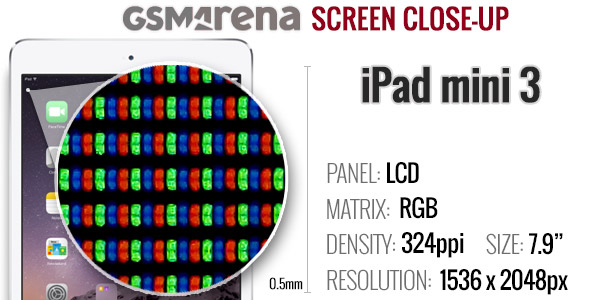 The Apple iPad mini 3 showed solid numbers in our dedicated display test and pretty much the same as its predecessor. Compared to the iPad mini 2 it offers a slightly higher brightness at both 50% and 100% but a slightly lower contrast ratio.
Display test
50% brightness
100% brightness
Black, cd/m2
White, cd/m2
Contrast ratio
Black, cd/m2
White, cd/m2
Contrast ratio
Apple iPad mini
0.25
208
838
0.51
458
812
Apple iPad mini 2
0.2
167
835
0.56
450
804
Apple iPad mini 3
0.23
184
808
0.65
515
799
Apple iPad Air
0.19
181
968
0.53
508
964
Apple iPad Air 2
0.16
171
1045
0.44
458
1048
Sony Xperia Z3 Tablet Compact
-
-
-
0.45
631
1416
Samsung Galaxy Tab S 8.4
0
221
∞
0
398
∞
Battery life
Apple iPad mini 3 is identical to its predecessor and has a 6470mAh capacity. The video playback test turned out surprisingly better than the iPad mini 2, while the web browsing performance took a small hit. This might as well be iOS 8's fault, as our iPad mini 2 results were measured on iOS 7 last year.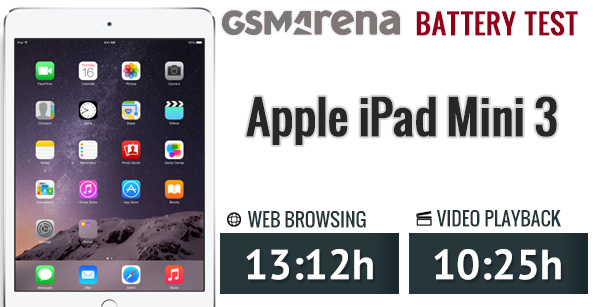 Video playback
Sony Xperia Z3 Tablet Compact
13:21
Samsung Galaxy Tab S 8.4
12:52
Apple iPad mini
12:51
Xiaomi Mi Pad 7.9
12:48
Apple iPad mini 2
12:22
Apple iPad mini 3
10:25
Web browsing
Sony Xperia Z3 Tablet Compact
18:09
Apple iPad mini 3
13:12
Xiaomi Mi Pad 7.9
11:02
Apple iPad mini 2
10:47
Samsung Galaxy Tab S 8.4
9:33
Apple iPad mini
9:05
If you are interested how these results compare to other tested devices, check out our battery life test result table.
Our battery testing procedure is described in detail in case you want to learn more about it.
Connectivity
The Apple iPad mini 3 offers a plethora of connectivity options. Unfortunately, there are hardly any updates in this department. The new iPad mini 3 retains the same Wi-Fi 802.11 a/b/g/n support with MIMO technology (dual antennas for better signal). Unlike the Air 2, there is no Wi-Fi 802.11ac support.
The Wi-Fi+Cellular iPad mini 3 supports LTE Cat.3 with 100 Mbps downlink and support for a total of 17 LTE bands in all model variations.
Apple has designed its own SIM solution as well, dubbed Apple SIM. It allows a single carrier-agnostic SIM to connect to AT&T, Sprint and T-Mobile in the US and Everything Everywhere (EE) in the UK depending on your initial setup (and contract, of course). The solution has seen resistance from some of the carriers though so don't expect it to work as advertised just yet.
Bluetooth 4.0 with A2DP and EDR is here and, complete with Wi-Fi, facilitating Apple's AirDrop, which can share docs and files across iOS devices and the latest MacBooks with OS X Yosemite. Using AirDrop for transfers to non-Apple certified devices is a no-go.
AirDrop is available in every share menu throughout the iOS 8.1. You can send pictures, videos, App Store and iTunes links, Notes, Maps links, all kind of files from file managing apps (i.e. Filer, Flash Drive, Air Disk, etc.), Office docs, and more. If there are people with an active AirDrop service around you, they will automatically appear in the dedicated AirDrop field. You just mark your files, select the recipient and hit the send key.
AirPlay can wirelessly stream your iPad mini 3 screen to an Apple TV, HDTV or compatible audio systems.
Regular USB mass storage isn't available but there's a workaround using the iTunes computer software. You can store whatever files you want on the iPad, but those are only made available to the app that you've dropped them onto. Good thing is you are not restricted to files compatible with the said app and you can simply drag & drop files that you would download on another computer later on.
The iPad mini 3 Wi-Fi + Cellular has a built-in A-GPS receiver with GLONASS support, but the Wi-Fi only tablet does not have it (this is standard for iPads).
Apple is continually improving its Find My iPad service. The iOS 7 update brought the so-called Activation Lock. This will not only protect your personal data but will also make your iDevice inoperable once wiped, unless you enter your Apple ID. This means the stolen or lost iGadgets will be of no use to thieves or finders. Of course, this protection is not bulletproof and experienced hackers will have a ball with your iPad, but this might as well make your Average Joe think twice about keeping your iPad to themselves.
Finally, the hot handoff feature is available as well and works great between the iPad mini 3 and any other iOS 8 or Mac OS X Yosemite device. We'll get into details in a bit.