The third generation Apple iPad mini is official. It's called just "iPad mini 3," the Retina display is a given. Sorry if it took us a while to finish writing this news, we were looking for what's changed in the new tablet. And we can tell you it's not much - actually barely anything.
The iPad mini 3 screen keeps the size and resolution of its predecessor – 7.9" and 1,536 x 2,048 pixels. But it's not the thin, optically laminated, barely reflective screen of the iPad Air 2, instead it's just the same panel. This also means that the iPad mini 2 isn't thinner, it stays at 7.9mm and weighs the same.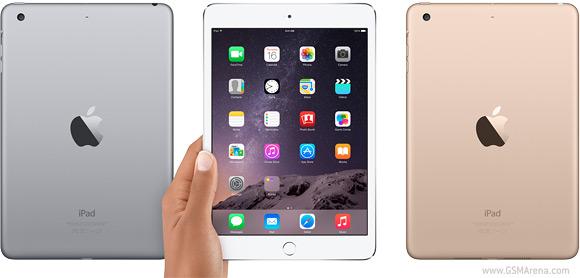 Here's the summary of what's new: the model name, Touch ID and Apple Pay have been added, plus there's a Gold color option. Oh, and the 32GB option removed (which at least means cheaper upgrades to 64GB and 128GB).
The camera department remains unchanged – a 5MP iSight camera and an HD FaceTime camera. Same goes for connectivity, no Cat. 4 LTE or Wi-Fi 802.11ac. This is perhaps because the chipset is the old one, the Apple A7, so no performance upgrades are to be had here.
Pre-orders start tomorrow and the Apple iPad mini 3 will by the end of next week. It comes in 16GB, 64GB and 128GB storage options for $400, $500 and $600 respectively. Add $130 if you want LTE. There's a new Gold version in addition to the Silver and Space Gray.
29 countries will be among the first wave to get the iPad mini 3. That includes US, Australia, Austria, Belgium, Bulgaria, Canada, China (Wi-Fi models only), Czech Republic, Denmark, Finland, France, Germany, Hong Kong, Iceland, Ireland, Italy, Japan, Liechtenstein, Luxembourg, Macau (Wi-Fi models only), Netherlands, New Zealand, Norway, Poland, Portugal, Romania, Singapore, Slovakia, Spain, Sweden, Switzerland and the UK by the end of next week.
In the US all four major carriers (AT&T, Sprint, T-Mobile and Verizon Wireless) will be offering the device.
D
Ladies and gentilmen, wellcome to "ipad mini 2.1" !!!!!!!!
D
You will be a complete idiot by buying the iPad mini 3. Honestly who would spend 100 dollars extra, in my country even euros, for Touch ID? The gold color isn't even a feature worth mentioning. It's insane! Also, the iPad mini 1 is complete bullocks ...