The Apple iPad Pro has been an ongoing rumor for no less than a year and a half now, and at some point it was even expected last fall. So far the large tablet has remained elusive, but we've seen alleged live images of one or two bumper cases for it as well an artist's take on the slate's looks.
A new leak now claims to detail the iPad Pro's dimensions, and also suggests that the screen will be 12.9 inches instead of the 12.2 inches where the rumors had previously settled. The schematics reveal a footprint measuring 305.7 x 222.6mm. A 12.9-inch screen in 4:3 aspect should be 196.6 x 261.2mm, which would mean a screen-to-body ratio of about 75.7%. Compare that to the current iPad Air 2 and iPad mini 3 which are both around the 71.7% mark.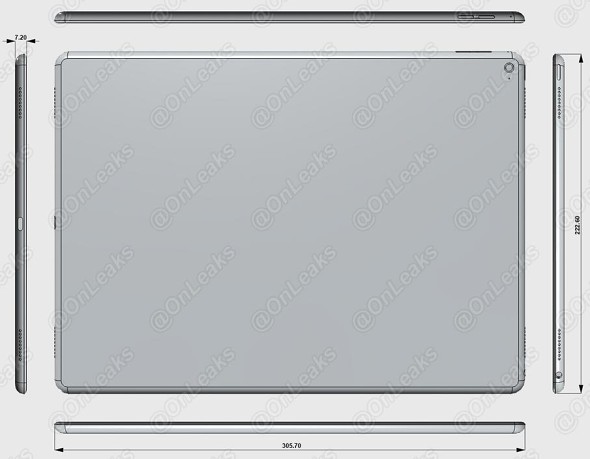 The tablet is reported to be 7.2mm thin, which is a good achievement, when Samsung's Galaxy Note Pro 12.2 and Tab Pro 12.2 are both thicker at 8mm. Such a large tablet would be prone to bending though, if the designers overdo it on the slimming down trend.
Other body elements that are noticeable in the schematics are the speaker grilles - typical iPhone 6 design, but there are no less than four of them. That should promise some serious sound output, unless it was merely symmetry the designers were after and there are no actual speakers behind all of the grilles.
A single port on the short side is also pictured, and our guess is that it would be a USB Type-C port, judging by Apple's latest MacBook 12". A volume rocker, headphone jack and a power button are also positioned on the sides, while a camera is drawn in one of the corners on the back.
Now, the source of the drawing is @OnLeaks, so it should be credible enough. But the blueprint itself is dated December 2014 and five months later we're yet to see more sound proof of the iPad Pro's existence, so don't get overly excited.
v
Copycat lol http://www.amazon.com/Fred-Friends-OBSESSIVE-Cut­ting-OBCH/dp/B004TEZD64/ref=sr_1_109?s=home-gard­en&ie=UTF8&qid=1430637096&sr=1-109&a­mp;keywords=Cutting+Board
D
The latest 12" MacBook is fanless and also has has only two connectors. Without the keyboard but with a 13" touchscreen, it would be about this size, so yeah, this could perhaps be an OSX device. After all, regardless of whether it actuall...