You can now get your hands on an iPad Pro, we did. Apple's XL-sized tablet marks a new chapter in Cupertino's tablet efforts, one where the iPad goes from a content consumption gadget to a content creation one.
The first-party keyboard and stylus are key for that. There have been third-party solutions almost for as long as there has been an iPad, but they never had iOS-level support nor Apple's design touch. Editing 4K videos is also a key selling point – the tablet can stream three 4K videos simultaneously and edit one.
Whatever your work orientation, the huge 12.9" 2,048 x 2,732px screen makes even flagship laptops jealous and is much more conductive to working rather than just browsing. It's 78% bigger than an iPad Air screen and due to its 4:3 aspect ratio looks much bigger than even the Samsung Galaxy Note Pro 12.2.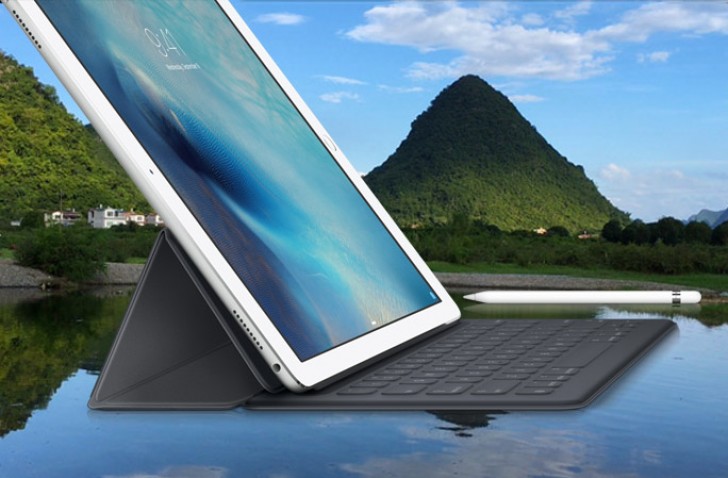 The Apple Pencil, that's the stylus, is tracked 240 times per second so you can draw with no lag and its pressure sensitive too. Galaxy Note users aren't that impressed though, S Pens have done that for years and without battery too.
The keyboard seems like it threatens the MacBook Air, but Apple says it will never make a converged laptop (with Apple "never" is just another word for "not yet"). The Microsoft Surface has several generations of keyboard cases and the new Surface Book feels even more like a laptop – you can adjust the angle of the screen, which you can't with Apple's tablet.
We'll understand if you're tempted to get an iPad Pro just for gaming. The latest Apple A9X chipset is a beast and it's paired with 4GB of RAM (the most any iOS device has ever seen). The quad speaker setup is pretty sweet too, but packing up the Pro for a weekend getaway is not easy – the tablet is about as portable as a MacBook Air.
So, that's it then – a novel tablet in Apple's lineup, even if it's not very innovative considering the rest of the market. It will attract professionals, maybe some hardcore Apple users and people who pay premium for oversized gaming laptops.
Does it attract you? Cast your vote and together we'll find out the general attitude towards the Apple iPad Pro.
?
Of course not, I want to play Dota 2, blue stacks, full Photoshop, connect to Citrix, etc.
D
Perhaps, but consider that 1) that applies only to graphic professionals, and 2) some other graphic artists who tried ipad pro voiced different opinion. So it's very personal preference.