The A13 Bionic is the fastest chip Apple has ever made
Apple iPhone 11, just like the 11 Pro and 11 Pro Max, runs on the latest Apple A13 Bionic chip. The A13 has 8.5 billion transistors and is built on a 7nm+ process. The chipset is faster and more power-efficient than the A12.
As the Bionic name suggests the A13 chip is more of an improved sequel, rather than a major chip redesign. That was to be expected - usually the Speed models are the bearers of new chip innovations.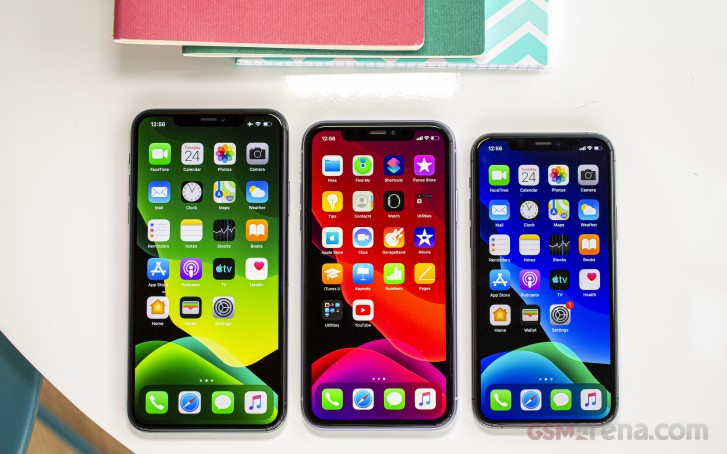 The Apple A13 Bionic chip packs a hexa-core processor with 2x2.65 GHz Lightning high-performance cores and 4x1.8 GHz Thunder efficient CPU cores. The Lightning cores are 20% faster, 30% more efficient. Once again Apple has chosen some cool names for its processor cores.
The A13 SoC has a new GPU that keeps the 4-core design introduced with A12. But is now 20% faster and a whopping 40% more efficient when delivering the same performance as A12's GPU.
The third generation Neural Engine has 8 cores (20% faster, 15% more efficient) and is in charge of image processing features such as Deep Fusion and Night Mode. Deep Fusion will be released as a software update later this year and it's Apple's version of HDR+. It takes 4 photos before you press the shutter, 4 when you do and then 1 long exposure. Then it picks the best shots and fuses them together. Night Mode is available at launch.
Finally, all iPhone 11 devices come with 4GB of RAM. There are theories that the new ISP has dedicated 2GB of RAM because it would be close to impossible to do what it does without, but it is integrated within the A13 chip and until someone reverse engineers its complex architecture, this will remain just a theory.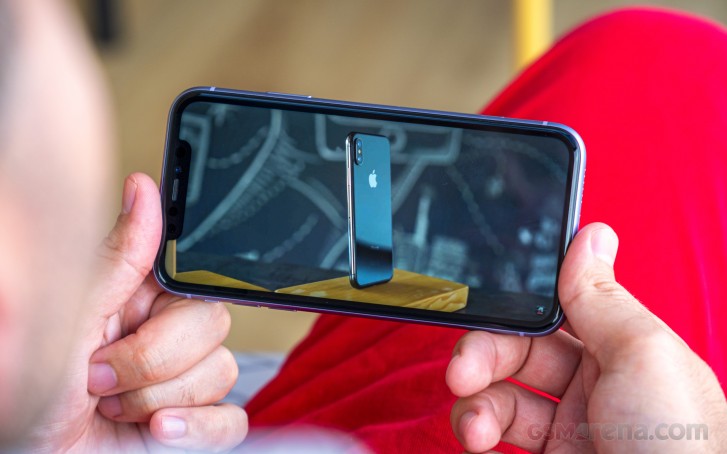 And now it's time to run some benchmarks.
We ran GeekBench first. Apple has been a leader in GeekBench charts, and with the A13, it continues to be the chart-topper. The Lightning core is much faster than anything the Android competition has to offer and 15% faster than the Vortex core within the iPhone XS and Apple A12.
GeekBench 4.1 (single-core)
Higher is better
Apple iPhone 11 Pro
5483
Apple iPhone 11
5477
Apple iPhone XS
4823
Apple iPhone XR
4818
Samsung Galaxy Note10
4544
Samsung Galaxy S10e
4518
Apple iPhone X
4256
Sony Xperia 5
3493
OnePlus 7 Pro
3402
Huawei P30 Pro (perf. mode)
3323
Redmi K20 Pro/Mi 9T Pro
3000
The multi-core performance is now 20% faster than the previous generation iPhone XS/XR and their A12 processor. And much faster than any Android CPU.
GeekBench 4.1 (multi-core)
Higher is better
Apple iPhone 11
13882
Apple iPhone 11 Pro
13829
Apple iPhone XS
11472
Apple iPhone XR
11437
OnePlus 7 Pro
10943
Sony Xperia 5
10941
Redmi K20 Pro/Mi 9T Pro
10684
Samsung Galaxy Note10
10353
Apple iPhone X
10215
Samsung Galaxy S10e
10081
Huawei P30 Pro (perf. mode)
10014
Now, let's see if the new 4-core GPU will also live up to the promise of 20% performance upgrade. We know little about Apple's custom GPUs. The A11 had a 3-core one, the A12 had a 4-core, and the A13 also has a 4-core one. But that's pretty much it.
The best way to inspect the raw performance is to run some offscreen benchmarks. And the A13 GPU demonstrated chart-topping performance across the four offscreen tests we ran - Manhattan 3.0 and 3.1, Car Chase, and 3D Mark. It seems Apple has delivered once again on its promises.
GFX 3.0 Manhattan (1080p offscreen)
Higher is better
Apple iPhone 11
179
Apple iPhone 11 Pro
178
Apple iPhone XR
136
Apple iPhone XS
114
OnePlus 7T
112
Redmi K20 Pro/Mi 9T Pro
101
Samsung Galaxy Note10
99
Samsung Galaxy S10e
95
OnePlus 7 Pro
92
Huawei P30 Pro (perf. mode)
90
Sony Xperia 5
88
Apple iPhone X
81
GFX 3.1 Manhattan (1080p offscreen)
Higher is better
Apple iPhone 11
121
Apple iPhone 11 Pro
118
Apple iPhone XS
98
Apple iPhone XR
97
OnePlus 7T
79
Redmi K20 Pro/Mi 9T Pro
71
Sony Xperia 5
69
OnePlus 7 Pro
68
Samsung Galaxy S10e
67
Apple iPhone X
65
Samsung Galaxy Note10
59
Huawei P30 Pro (perf. mode)
56
GFX 3.1 Car scene (1080p offscreen)
Higher is better
Apple iPhone 11
76
Apple iPhone 11 Pro
66
Apple iPhone XR
60
Apple iPhone XS
60
OnePlus 7T
48
Samsung Galaxy S10e
42
Redmi K20 Pro/Mi 9T Pro
42
OnePlus 7 Pro
41
Sony Xperia 5
40
Apple iPhone X
37
Huawei P30 Pro (perf. mode)
33
Samsung Galaxy Note10
28
3DMark SSE 3.1 Unlimited
Higher is better
Apple iPhone 11
6162
OnePlus 7 Pro
6093
Apple iPhone 11 Pro
6091
Sony Xperia 5
5592
Samsung Galaxy Note10
5269
Redmi K20 Pro/Mi 9T Pro
4850
Apple iPhone XS
4818
Samsung Galaxy S10e
4545
Huawei P30 Pro (perf. mode)
4315
Apple iPhone X
3217
We also ran the Car Scene onscreen test with the iPhone 11 (828p) and the iPhone 11 Pro (1125p) as all other onscreen tests of the GFX Benchmark reached 60fps - the maximum a 60Hz screen can display. Well, the numbers speak for themselves.
GFX 3.1 Car scene (onscreen)
Higher is better
Apple iPhone 11
60
Apple iPhone XR
58
Apple iPhone 11 Pro
57
Apple iPhone XS
47
OnePlus 7T
41
Samsung Galaxy S10e
40
Redmi K20 Pro/Mi 9T Pro
36
Sony Xperia 5
33
Huawei P30 Pro (perf. mode)
29
Apple iPhone X
28
Samsung Galaxy Note10
28
OnePlus 7 Pro
19
Finally, we ran the compound AnTuTu 7 test and the iPhone 11 aced it, although it scored a bit lower than the iPhone 11 Pro.
AnTuTu 7
Higher is better
Apple iPhone 11 Pro
460784
Apple iPhone 11
419453
Redmi K20 Pro/Mi 9T Pro
368846
OnePlus 7 Pro
364025
Apple iPhone XS
346379
Samsung Galaxy Note10
344442
Apple iPhone XR
341196
Sony Xperia 5
334809
Samsung Galaxy S10e
325192
Huawei P30 Pro (perf. mode)
316156
Apple iPhone X
233100
There was no doubt the Apple A13 chip is be the fastest smartphone SoC on the planet right now. It has been this way since Apple switched to inhouse designed chips and that was probably one of the best decision Apple could make since the first iPhone.
The A13 is a noticeable upgrade over the A12, and with the added graphene layers it offers better cooling and sustained performance for a very long time. The graphene disperses the heat equally over the frame and the glass back and instead of hot spots, the iPhone 11 just get warm all over the back. And we didn't observe much throttling even after consecutive benchmark tests.
The Apple A13 Bionic chip is once again way ahead of the Android gang, which by the way finally managed to match the A11 chip performance from 2017. Of course, this doesn't really matter as A13, or any other Apple chip, will never see the light of day running under Android.
So, long story short, the A13 is the promised upgrade over the A12 chip, and also - the new king in smartphone markets and we bet it will keep topping charts until Apple's A14 comes next year.