Excellent AMOLED screen, still 60Hz though
So, the iPhone 12 Pro has a 6.1" OLED screen of 1,170 x 2,532 pixels or 460ppi. It has Ceramic Shield protection and oleophobic coating for better smudge resistance.
The screen supports HDR10 and Dolby Vision. You can enjoy high-res HDR content on all known streaming platforms.
The Apple iPhone 12 Pro screen also supports True Tone adjustments, Wide Color support, and it has the Haptic Touch feature provided by the Taptic Engine.
In its essence, the iPhone 12 Pro is the same type of screen used in the iPhone 11 Pro. The screen is slightly larger this time - with a 6.1-inch diagonal vs. 5.8 inches on the 11 Pro.
The minor resolution bump is just enough to maintain the same pixel density of 460ppi.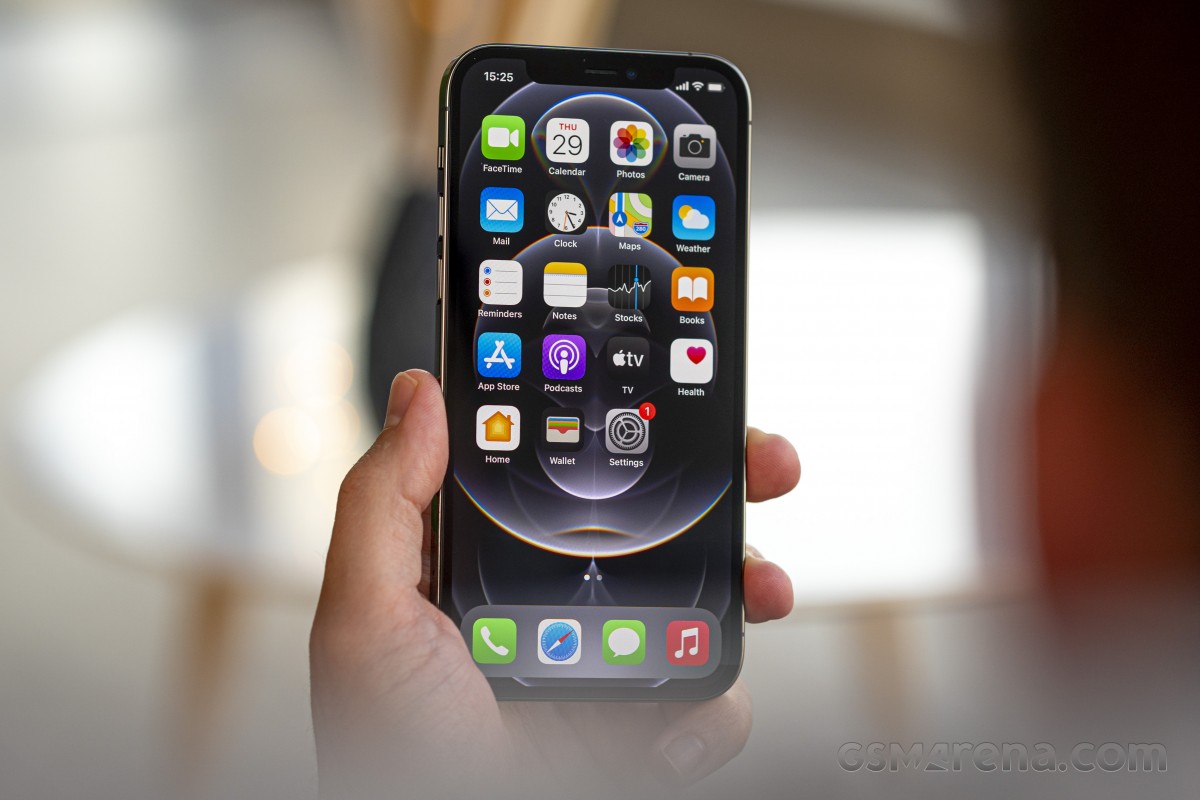 Otherwise, we are still looking at an OLED screen with a giant notch, 60Hz refresh rate, and 120Hz touch sampling.
Yes, Apple didn't bring the rumored high refresh rate screen. This will hardly be a deal-breaker for someone who is already locked into the iOS ecosystem or is still using an older device with a 60Hz refresh rate by another manufacturer.
If you are coming from the Android camp, where even mid-rangers already have high refresh rate displays in 2020, the fact that the expensive iPhones don't have that will sting a little. Well, we'd have to wait for the iPhone 13 Pro, we guess.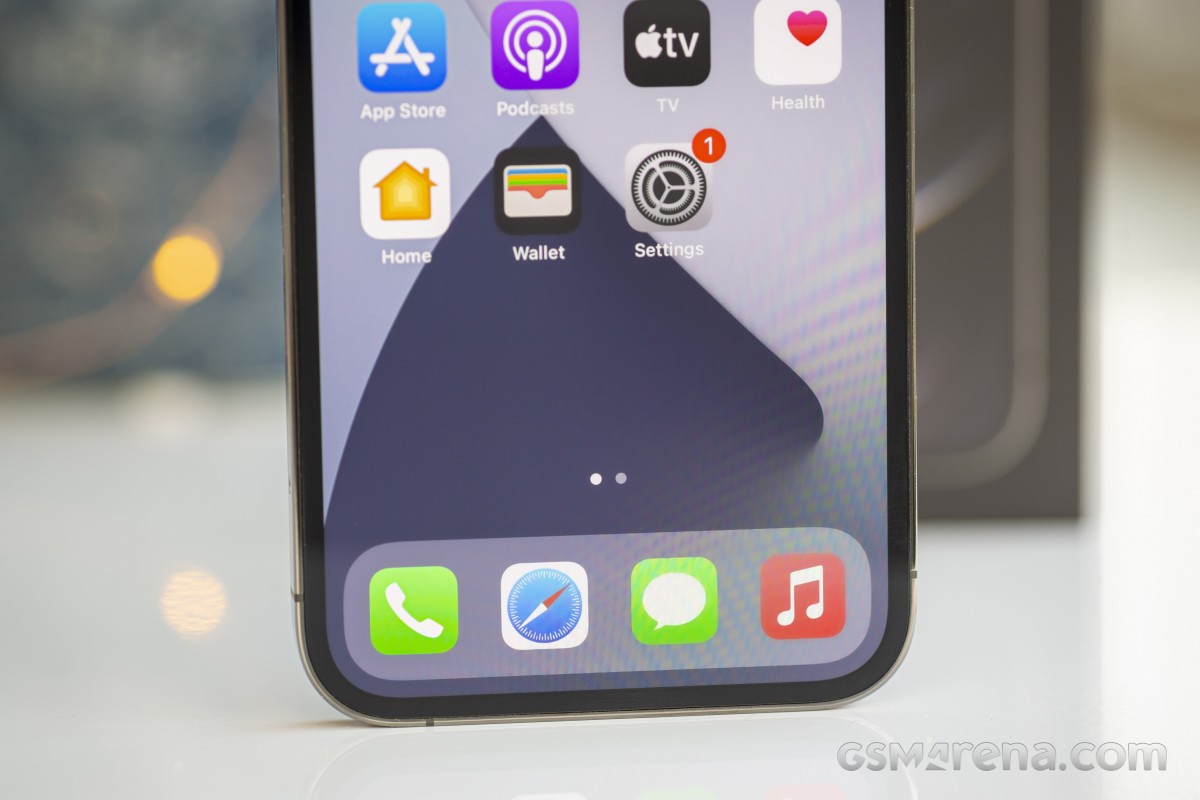 Apple advertises 800 nits of typical brightness on the iPhone 12 Pro display and 600 nits for the iPhone 12's. Both phones offer peak brightness of up to 1,200 nits.
And that's exactly what the screen offers - we measured 802 nits of maximum brightness on the iPhone 12 Pro with our particular test setup. The minimum brightness is impressively low at 1.8 nits.
There is no maximum auto boost on any iPhone, though you'd never miss that with such a bright screen.
Display test
100% brightness
Black,cd/m2
White,cd/m2
Contrast ratio
Apple iPhone 12 Pro
0
802
∞
Apple iPhone 12
0
639
∞
Apple iPhone 11 Pro Max
0
820
∞
Apple iPhone 11 Pro
0
805
∞
Apple iPhone 11
0.428
644
1505:1
Apple iPhone X
0
679
∞
Apple iPhone XR
0.425
700
1647:1
Samsung Galaxy S20 FE
0
404
∞
Samsung Galaxy S20 FE (Max Auto)
0
823
∞
OnePlus 8T
0
497
∞
OnePlus 8T (Max Auto)
0
802
∞
OnePlus 8 Pro
0
538
∞
OnePlus 8 Pro (Max Auto)
0
888
∞
Samsung Galaxy Note20 Ultra 5G
0
504
∞
Samsung Galaxy Note20 Ultra 5G (Max Auto)
0
1024
∞
The iPhone 12 Pro screen offers excellent color accuracy - we measured an average deltaE of 1.9 and a maximum deviation of 3.0 against sRGB targets. The iPhone 12 Pro fully supports DCI-P3, and it automatically switches to this color space when DCI-P3 content is sent to the screen.
As usual, the iPhone 12 Pro can maintain such a great color accuracy across all brightness levels, even at the lowest point of 1.8 nits.
Battery life
The Apple iPhone 12 Pro has the same 2,815mAh battery as the regular iPhone 12, which means it's about 7% smaller than the iPhone 11 Pro. The phone supports fast wired and wireless charging, if you purchase the compatible power adapters, that is.
The iPhone 12 Pro did well on our battery test - it posted similar talk, web, and video times as the iPhone 12. The call and web times are similar to the iPhone 11 Pro, but in contrast, the older model lasted north of 15 hours of video playback.
The standby performance turned out a bit worse than on the iPhone 12 and 11 Pro, and that's why the final endurance rating is a bit lower, too.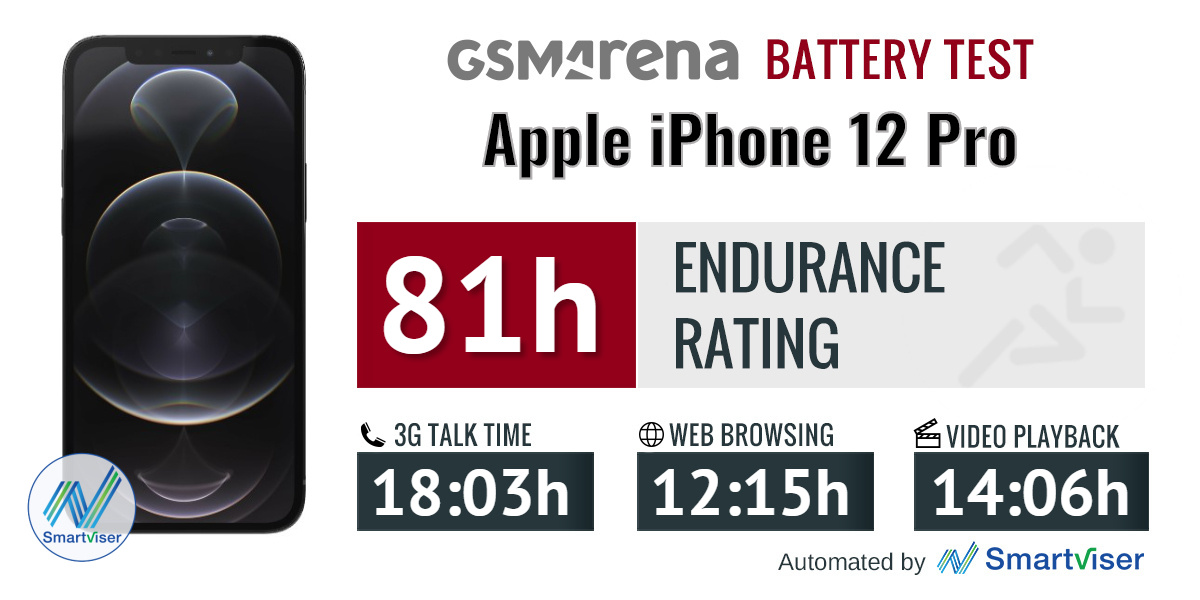 Our battery tests were automated thanks to SmartViser, using its viSer App. The endurance rating above denotes how long a single battery charge will last you if you use the Apple iPhone 12 Pro for an hour each of telephony, web browsing, and video playback daily. We've established this usage pattern so that our battery results are comparable across devices in the most common day-to-day tasks. The battery testing procedure is described in detail in case you're interested in the nitty-gritty. You can check out our complete battery test table, where you can see how all of the smartphones we've tested will compare under your own typical use.
We also tried discharging the battery while playing games and the iPhone 12 Pro GPU turned out more efficient and the phone offers one more hour of gaming over the iPhone 11 Pro. We are going to discuss this more in our Performance chapter.
Charging speed
The Apple iPhone 12 Pro, just like the iPhone 8, X, XS, and 11 series, supports fast battery charging via USB Power Delivery. As we already made it abundantly clear, Apple ships this $1000 phone without a charger (sigh!), but you can purchase Apple's 20W PD charger or another USB-PD compatible adapter separately.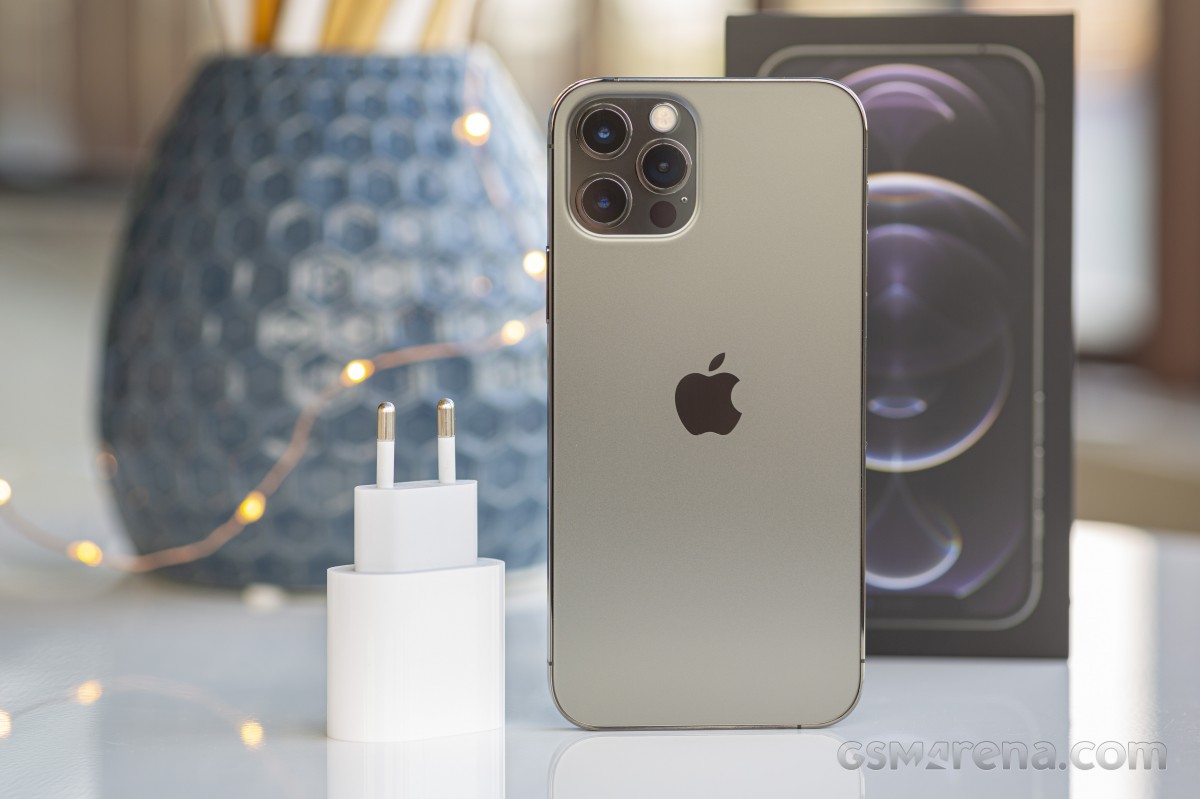 If you recharge the dead iPhone 12 Pro with Apple's 20W charger, it will refill 59% of its battery in 30 mins.
30min charging test (from 0%)
Xiaomi Mi 10 Ultra
100%
OnePlus 8T
94%
Realme 7 Pro
94%
Apple iPhone 12 Pro (20W)
59%
Apple iPhone 11 Pro
59%
Apple iPhone 12 (20W)
58%
Realme 7
58%
Galaxy S20 FE (25W)
57%
Apple iPhone 11 (18W)
55%
Galaxy S20 FE (15W bundled)
37%
Apple iPhone 12 (15W MagSafe)
30%
Apple iPhone 11 (5W)
18%
After an hour of charging we got 90%, while the last 10% required some extra 30 minutes (yes, we had the Optimized Charging disabled).
Time to full charge (from 0%)
Xiaomi Mi 10 Ultra
0:27h
OnePlus 8T
0:36h
Realme 7 Pro
0:37h
Realme 7
1:05h
Galaxy S20 FE (25W)
1:10h
Apple iPhone 12 Pro (20W)
1:30h
Apple iPhone 12 (20W)
1:30h
Galaxy S20 FE (15W bundled)
1:35h
Apple iPhone 11 Pro
1:50h
Apple iPhone 12/Pro (15W MagSafe)
3:00h
Apple iPhone 11 (5W)
4:00h
The iPhone 12 Pro supports 15W fast wireless charging but only when using MagSafe chargers. Otherwise, you'd be limited to 5W-8W or so.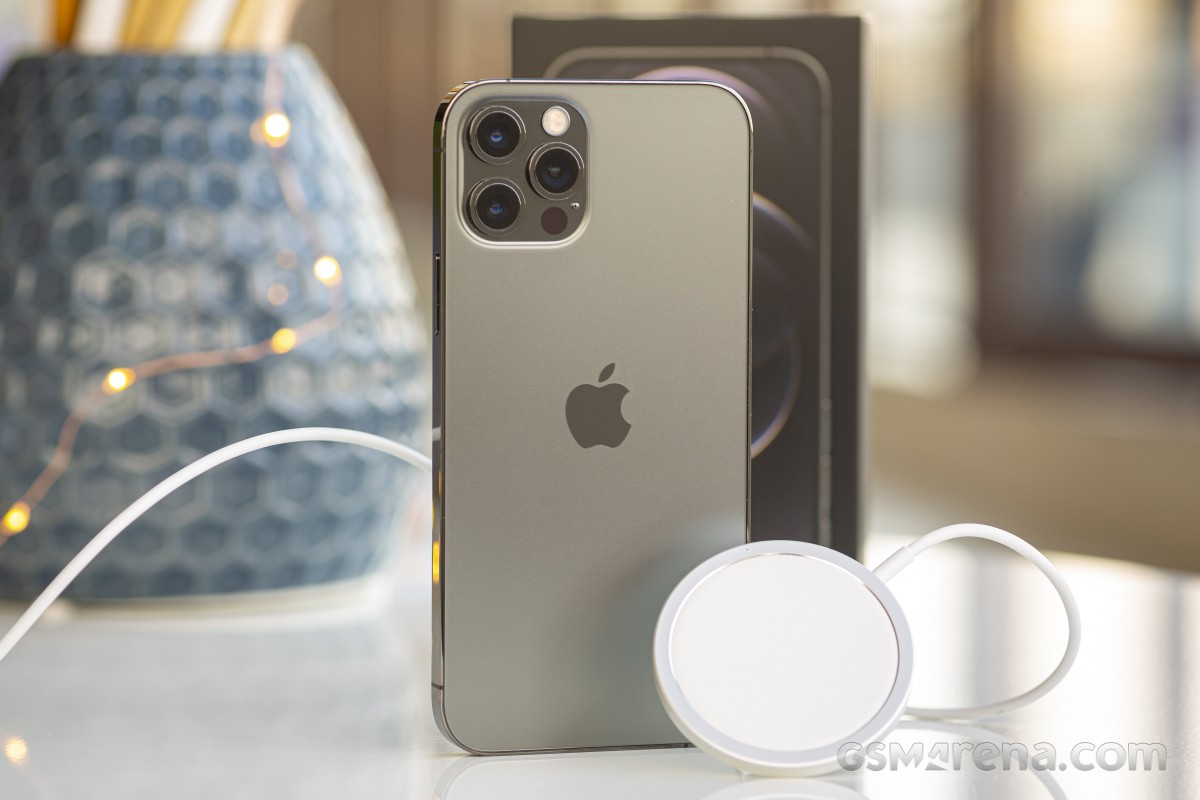 We snapped Apple's own MagSafe charger on the back of the iPhone 12 Pro and recharged it from 0% to 100%. The charging times were far from impressive, though. First, it takes about 5 minutes to wake up a dead iPhone 12 Pro. Then the MagSafe charger refills 30% in 30 minutes, while full charge requires 3 full hours!
Stereo speakers
The iPhone 12 Pro plays audio through stereo speakers just like all recent iPhones. There is one speaker at the bottom and another one inside the screen notch, which also doubles as an earpiece. The output is quite balanced even if the top speaker is a bit bass-less.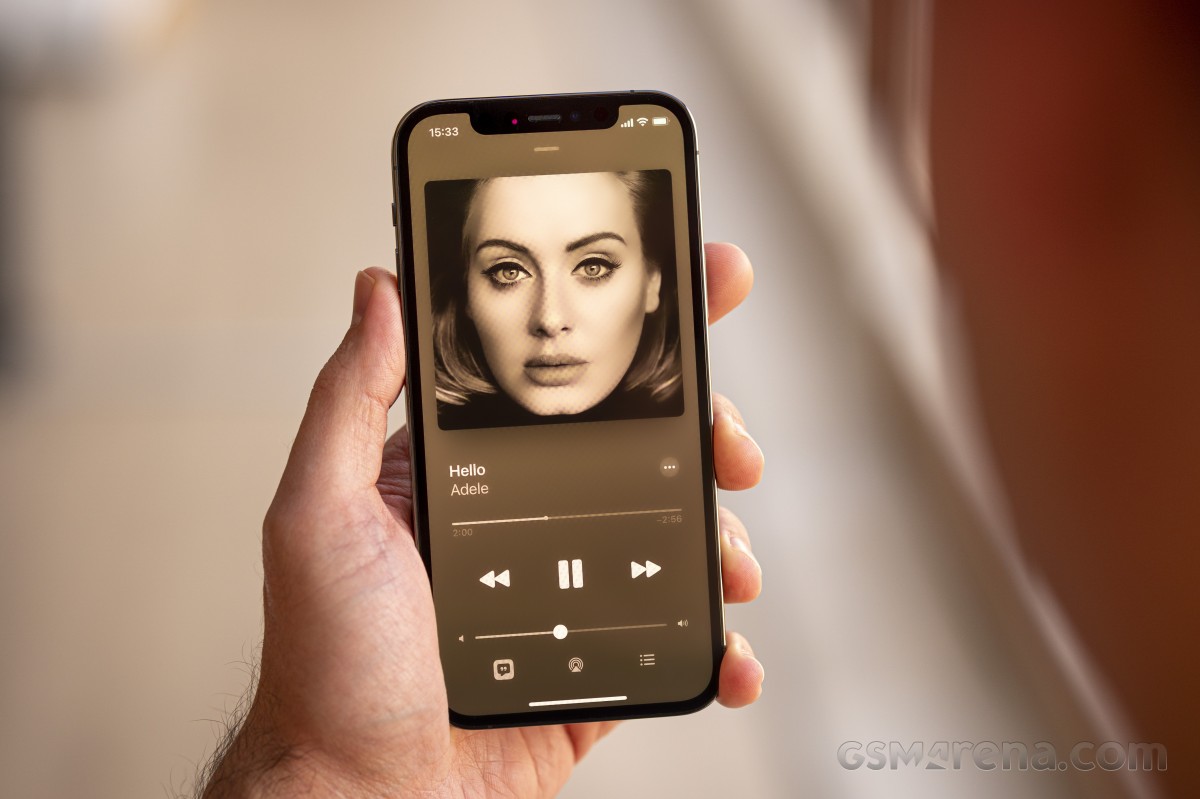 The speakers support spatial audio, and subjectively, the sound indeed seems less directional and more, well, spatial when compared to other phones we've tested so far.
The iPhone 12 Pro scored a Very Good mark in our loudness test, and it is on par with the iPhone 12 and 11 Pro. The audio quality is excellent - there is deep bass, the mid-tones are superb, and the high-notes are well presented, too. Overall, these are some of the best sounding speakers we've listened to by a smartphone.
Use the Playback controls to listen to the phone sample recordings (best use headphones). We measure the average loudness of the speakers in LUFS. A lower absolute value means a louder sound. A look at the frequency response chart will tell you how far off the ideal "0db" flat line is the reproduction of the bass, treble, and mid frequencies. You can add more phones to compare how they differ. The scores and ratings are not comparable with our older loudspeaker test. Learn more about how we test here.