The long waiting is finally over folks - D-day has come. Apple iPhone 3G is retailing as of today in as many as 22 countries. The new 2.0 firmware for the original iPhone also surfaced today and as it seems these are only the icing of the cake brought us today by Apple. The iPhone 3G is now better performing, better looking (or is it?) and comes with an integrated GPS. The news doesn't get much better than this for Apple fans, does it?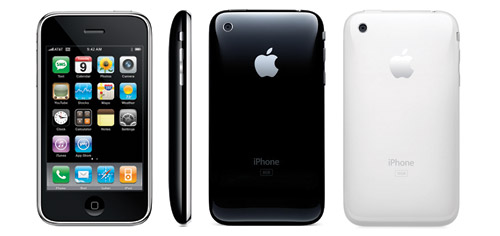 The specifications of the new iPhone 3G have hardly been a secret for anyone but nonetheless here is a quick refresh to those of you that might have forgotten a few of them. It flaunts the same 3.5-inch display (480 x 320 pixels) as its predecessor but has grown about a millimeter in width, length and thickness. The tri-band HSDPA support will now provide for a few times faster data transfers than EDGE. There is no secondary camera for making video calls however.
The added GPS also comes in with an added A-GPS functionality but as of now only works with Google Maps. This effectively terminates the chances of using your iPhone for turn-by-turn navigation. This is a real pity having in mind the great display but maybe it will be fixed soon.
The App Store has also opened doors today, offering a whole load of applications for your iPhone. It is available through the 7.7 version of the love-or-loathe iTunes for both iPhone 3G and original iPhone with firmware 2.0. A nice thing about the App Store is that it offers a quite a low of the applications for free. There are also dozens of games - something the iPhone lacked until now. You can check out the short reviews of the released games over at Kotaku.Having in mind their acceptable prices maybe it is high time to start considering the iPhone a gaming device as well.
The first day of the new iPhone existence also brought answers to most of the questions troubling fans and potential users' minds. The loudspeaker volume seems to have increased which counts as no less than good news. The original iPhone was really one of the quietest mobiles available, making missing a call in noisy environment very likely.
The 3.5mm audio jack is no longer as deeply embedded and now the iPhone users aren't restated to using Apple's headsets only. Not that there was something wrong with the in-box headphones but still.
Microsoft Exchange is also now enabled with the iPhone, which means that Blackberry's devices will have a harder time standing their ground. Unluckily forwarding SMS is still not an option for the Apple users.
Today we also witnessed the iPhone 3G getting disassembled for the first time. The guys over at ifixit have had the guts of tearing their precious gadget apart for all of us to see how it looks on the inside. The most interesting facts coming from iPhone's bosom is that its CPU is once again Samsung-made and that the display and the glass covering it are no longer glued together. This means that the glass will be easier and cheaper to replace if necessary. The absolute same thing goes true about the battery which is no longer soldered as it was on the original iPhone.
Well, we guess there's really only one question left about the new iPhone 3G: "Will it play Crysis?".
c
Sure the battery on iPhone 3G is not that great, but what can we do? We want small size phones, powerful features and lengthy battery life. Just get a backup battery. I got mine from iPhoneck brands. Their new 3G backup battery is probably one o...
d
Is this one unlockable???
s
you can use your phone as modem while going. thats one of the beauty of 3G otherwise, why people like u going for 3G instead of 2g. by 2110 4G will be out. By using 4G technology you can download 1GB/sec data transfer. cheers sree
ADVERTISEMENTS