Slightly improved contact management
The iOS phonebook hasn't changed one bit, you'd think upon a casual look. It's the same as Apple had it back on the first iPhone. OK, almost. There is one thing they did fix after all – the Edit Contact interface.
All those annoying buttons for adding new phone/email/address/etc. are now replaced with text fields. You will never again be redirected to a new entry page, all contact's details are filled directly on the main screen. Yes, it was about time.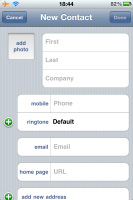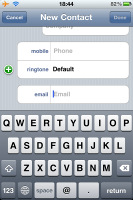 The new contact create/edit screen
What we really miss in the iPhone's Contacts app is the social integration. Most of the Androids, and even some feature phones, out there have already taken full advantage of enabling Facebook and Twitter right in their Contact lists, complete with profile and status updates.
We really hope Apple decides to implement this in the upcoming iOS 4 updates.
The contact search box and the dialer for that matter still don't support Smart dialing (though Spotlight is perhaps a good enough substitute). The phonebook also lacks an interface for deleting contacts en masse or at least the slide-to-delete option that is widely available in mail, notes and other third party software and can be easily used for deleting contacts without opening their details.
What do you know, Apple invented video-calls
"People have been dreaming about video calling for decades. iPhone 4 makes it a reality." Says Apple on their website. Alright, each of these two statements is true on its own. It's what they're trying to imply that is absolutely incredible. The correct wording should've been: Ever since the first iPhone, people hoped that maybe – just maybe – video-calling will at some point be enabled… erm sorry, invented.
FaceTime is perhaps a valid premise for Apple to claim (re)inventing video-calling. Well, they did. Apple's video-calls only work via Wi-Fi and only with another iPhone 4. You can start a FaceTime call right from your phonebook or switch to FaceTime mode during a voice call.
They may tell you it's good that you don't get charged for any data involved, but it seems they're doing carriers a favor too.
As to loudspeaker performance, there's nothing new about the new iPhone. It struggled to make the Below Average mark and that makes it the worst of all iPhones we've tested.
| | | | | |
| --- | --- | --- | --- | --- |
| Speakerphone test | Voice, dB | Pink noise/ Music, dB | Ringing phone, dB | Overall score |
| Apple iPhone 4 | 65.1 | 60.3 | 66.2 | Below Average |
| Apple iPhone 2G | 67.2 | 60.2 | 66.6 | Below Average |
| Samsung I9000 Galaxy S | 66.6 | 65.9 | 66.6 | Below Average |
| Apple iPhone 3G | 66.1 | 62.1 | 71.7 | Below Average |
| Apple iPhone 3GS | 69.5 | 69.5 | 71.7 | Good |
| Google Nexus One | 69.9 | 66.6 | 79.1 | Good |
| HTC Desire | 76.6 | 75.7 | 84.6 | Excellent |
The other letdown concerning the iPhone 4 telephony is its proximity sensor. In theory this sensor should lock the display when you hold it next to your face during a call so you won't press any buttons with your cheek by accident.
However the new proximity sensor fails to do its job very well, allowing the screen to turn on when there IS an object nearby. You can learn more about it in our blog, where we also published a video demonstrating the problem.
Our take on the iPhone 4 reception woes
You know – this year iPhone invented video-calling, we hope trouble-free signal reception is coming up next year. Now, seriously, we know you're all eager to hear about the "awesome" new external antenna and the unfortunate reception issues. All the "you're holding it wrong" stuff.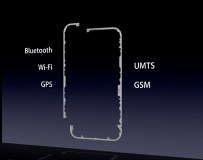 Apple's external antenna detailed
Here's what we experienced with the iPhone 4. Signal bars do drop – and rather fast too – when your palm and fingers fold around the bottom left side of the handset. Contact with skin most certainly interferes with the antenna and the phone is effectively losing signal. But – and it's a big BUT - we had no dropped calls because of this, nor any voice quality issues in areas of full strength signal.
In areas of spotty coverage, where the iPhone 4 reported only a single bar or two, things got messy. Even touching the surface of the phone, caused the voice quality to worsen and touching the bottom left corner consistently dropped the call.
We can also confirm that any type of a bumper case will eliminate the issue – we tested with an improvised rubber strip along the edge and signal remained steady.
We went ahead and did the same test with an iPhone 3G and it definitely looks that the bottom-left-corner-issue aside, the iPhone 4 has noticeably better reception than the 3G. It held on to signal more steadily and caught on signal much quicker when exiting a no-signal area such as a tunnel.
So as a conclusion, if the coverage in your area is good enough (full bars), touching the two antenna parts on the side and bottom of the handset simultaneously, may compromise the quality of reception a bit, but it won't cause any dropped calls.
On the other hand, dropped calls are quite easy to recreate persistently in areas of relatively low signal, however a bumper case, or anything that will protect the handset from contact with human skin, will sort those problems just as well.
A boost to messaging
SMS and MMS
The messaging app has been greatly improved since the iPhone OS 3.0 – better thread management with (mass) delete and forward options, turning on/off message reminders and previews, plus the full MMS integration.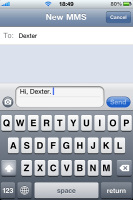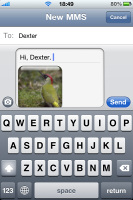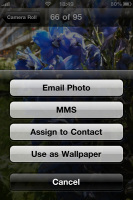 Creating SMS/MMS • sending photo or GPS location
Via MMS you can receive vCards, audio files and location data. On the iPhone 3GS and iPhone 4 you can even send video over MMS.
Composing an MMS is as easy as it gets. You can attach an existing photo or you can take one with camera just before sending. One image can be captured or selected at a time. To take another, you have to press the camera icon again.
Sending multiple photos, GPS coordinates or clips is initiated outside the messaging department via the respective Share function of each app.
iOS 4 brings lots of message improvements too. Steve Jobs mentioned nothing at the unveiling, but this doesn't mean the messaging app hasn't got any new features.
The first one is the SMS character counter, which honestly just took too long. It's there finally, but to use it you'd need to activate it in the messaging settings first, because it's disabled by default. Strange, isn't it?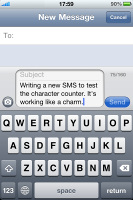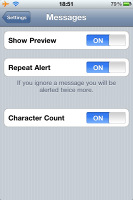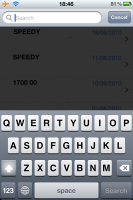 SMS counter • Message options • SMS search
The second upgrade brings SMS search. The search bar is placed above all your conversations and works like a charm.
Email
iOS 4 packs some major modifications in the Email department – an aggregated inbox, thread support and email archive.
The aggregated inbox (called All Inboxes) brings all messages from all your email accounts in one place. Some may find this feature useless, or at least messy – there're no account labels. It has its uses anyway and we are happy to see it in iOS 4.
Email threading is also enabled and works just like the conversations in the Messages app. All emails you exchange with a given contact are grouped into a single thread. A numeric indicator on the Email main screen shows the number of emails stored in every thread.
Finally, comes the Archive option. It's only available when you sync with Gmail. You can choose between Archive or Delete as the default action in the Email options. If you select Archive you'll never lose an email. It will be archived instead and available for later access.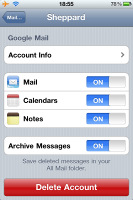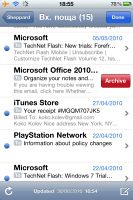 Turning Archive on • Archive instead of Delete
Apple thought about users who have installed additional office applications. If you want to open an email attachment with another app instead of Quick Look, you just need to tap and hold on it. A menu with the available options will appear. Obviously not all third-party apps are compatible with the feature – we got only one showing up in this context menu – Apple's iBooks app. It appears when the attached file is in PDF format.