Image gallery is a pleasure to work with
The iPhone's gallery (called Photos) is rather simple and easy to work with. It hosts all you pictures organized in different albums or tabs. When you open a specific album you can swipe scroll through the images.
There is one thing you should know. The iPhone's gallery opens every image slightly zoomed in to fit the whole screen tight. If you want to view the actual size picture, you'd need to pinch or double-tap to zoom out.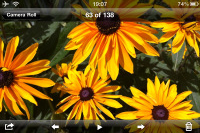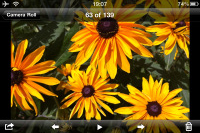 The default (zoomed) image • zooming out for actual size preview
The gallery syncs tightly with Mac OS X's iPhoto, to let you upload your Events, Places and Faces folder to your iPhone. They will appear as tabs at the bottom of the main Photos page. If your photos are geotagged, the Places tab will appear automatically showing small pins on the map where you've taken pictures.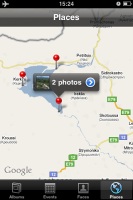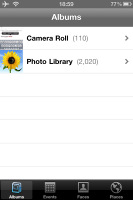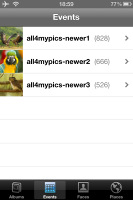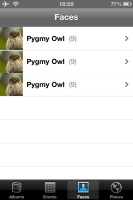 The new Events, Faces and Places tabs in the Gallery
The Photos app has a nifty photo editor. It enables rotation, cropping, and red-eye removal. There's also an enhance option over which you have no control - it's all automatic. In Edit mode four keys appear at the bottom for the available editing options.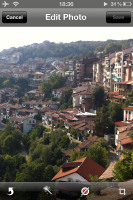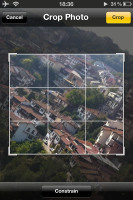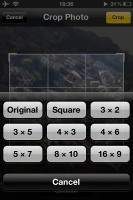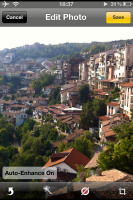 Editing a photo - rotate, crop and auto-enhance
The recorded clips are also stored in the Photos app and can be trimmed straight on the phone. It's as basic as it gets: there is a thumbable filmstrip at the top for you to set the start and end of the cut. You can quickly preview the part of the clip you're about to trim. But the best thing is you can overwrite your current clip or save it as a new one.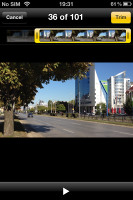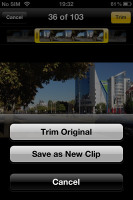 Trimming a video clip and saving the result
You can edit movies with iMovie too, but it's a paid app.
The iPod is now called Music
The iPod music player is now called just Music and comes with a brand new icon. As everything within the iOS, the Music app is as simple as it gets. It has five tabs at the bottom - Playlists, Artists, Songs, Albums and More.
Search is available across the Music app, as well as Shuffle. You can create, edit and delete playlists; you can delete tracks as well.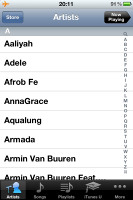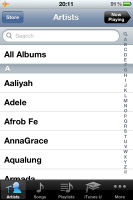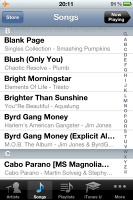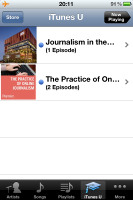 The Music player has no changes except the missing Video tab
If you turn the iPhone landscape, you'll get the Cover Flow view.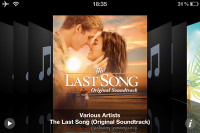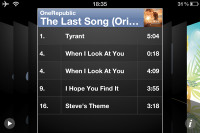 iPod in landscape mode – the Cover Flow view
In the More tab you'll find your downloaded podcasts, audiobooks and more sorting options: by genre, compilations or composers.
The music player offers a few equalizer presets and you can find them in the Settings.
There are a few helpful tips about the Music app. When your screen is locked you can get music shortcuts with just a double tap on the Home key. If you use the headset, double click on the middle key plays next song, while the triple click goes to the previous track. A single click on the middle click pauses/continues your current song.
There are three ways to manage your music on the iPhone - on a computer with iTunes, direct purchase in the iTunes app on your iPhone, or iCloud sync.
On a computer with the iTunes software you can create playlists and sync them with your iPhone. It has to be one computer though - each new computer sync will overwrite your old music library.
If you buy songs directly on your iPhone (via the iTunes Store), you can either sync them with your computer or download them again when you log in with the Apple ID you bought them with.
The third way is the iCloud. If your Music sync is turned on, then you can always download your music library (whatever the reason - restore, new device, deleted, etc.). We'll talk more about the iCoud sync and iTunes match later.
The video player plays 1080p, but has poor codec support
The iPhone has a separate Video app to hold all of your videos. The video playing interface is very simple, with nothing more than the usual player controls (including Fit to Screen) and a scrubber for precise skipping back and forth.
Supported video formats are not too many and as you probably already know, DivX and XviD videos are out of the quiestion. The nice thing about the iPhone 4S is that it can easily play 1080p videos.
Best audio quality in business
If you want to have the best possible audio output on your cell phone get an iPhone. The rule has always been as simple as that and the iPhone 4S is no exception to it. The new iOS smartphone did great in both the headphones off and headphones on parts of our test, achieving some pretty great scores and remaining impressively loud all the time.
In the first trial (connected to an active external amplifier), the iPhone 4S performed marvelously, but that's hardly a surprise. Even less talented smartphone musicians can get good scores here, so we couldn't expected anything less than perfect from the iPod descendant.
What really puts the iPhone 4S in a class of its own (not counting its predecessors, of course) is its headphones-on performance. The minor jump in stereo crosstalk is all that our lab equipment was able to detect as the resistance to the line-out port increased. The rest of the readings remained virtually unchanged, rounding up a really impressive performance.
Check out the numbers and see for yourselves.
| | | | | | | |
| --- | --- | --- | --- | --- | --- | --- |
| Test | Frequency response | Noise level | Dynamic range | THD | IMD + Noise | Stereo crosstalk |
| Apple iPhone 4S | +0.02, -0.11 | -91.2 | 91.2 | 0.0020 | 0.012 | -93.0 |
| Apple iPhone 4S (headphones attached) | +0.05, -0.10 | -91.3 | 91.3 | 0.0068 | 0.071 | -66.7 |
| Apple iPhone 4 | +0.01, -0.07 | -90.1 | 90.0 | 0.0068 | 0.012 | -89.6 |
| Apple iPhone 4 (headphones attached) | +0.01, -0.07 | -90.4 | 90.4 | 0.0036 | 0.092 | -68.4 |
| Samsung I9100 Galaxy S II | +0.04, -0.09 | -91.4 | 91.9 | 0.0042 | 0.066 | -89.7 |
| Samsung I9100 Galaxy S II (headphones attached) | +1.05, -0.22 | -90.0 | 90.2 | 0.013 | 0.647 | -49.4 |
| HTC Sensation | +0.05, -0.34 | -90.2 | 90.2 | 0.012 | 0.021 | -91.1 |
| HTC Sensation (headphones attached) | +0.71, -0.15 | -89.1 | 90.1 | 0.019 | 0.522 | -70.6 |
| LG Optimus 2X | +0.01, -0.03 | -90.1 | 90.1 | 0.011 | 0.016 | -89.2 |
| LG Optimus 2X (headphones attached) | +0.14,-0.04 | -89.8 | 89.9 | 0.0098 | 0.111 | -35.1 |
| Sony Ericsson XPERIA Arc S | +0.11, -0.10 | -89.3 | 89.3 | 0.014 | 0.038 | -90.2 |
| Sony Ericsson XPERIA Arc S (headphones attached) | +0.41, -0.12 | -88.8 | 88.8 | 0.174 | 0.319 | -46.6 |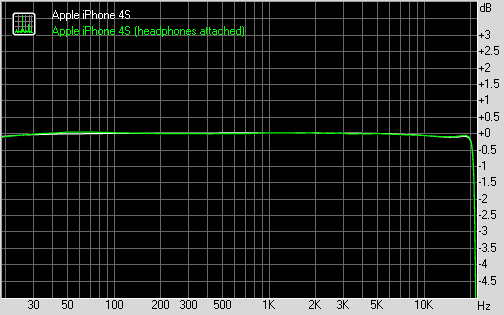 Apple iPhone 4S frequency response
You can learn more about the whole testing process here.