As promised, the newly announced iPhone 4S has just gone on pre-order in seven countries. You can choose between black and white versions right from the start and between 16, 32 and 64GB of internal storage.
All the online Apple Stores (including the USA's store) offer the iPhone 4S unlocked and SIM-free. The 16GB model costs $649/€629/£499/A$799, the 32GB one is $749/€739/£599/A$899 and the 64GB goes for $849/€849/£699/A$999.
The US store also offers iPhone 4S on contract with AT&T, Sprint and Verizon at $199(16GB)/$299(32GB)/$399(64GB).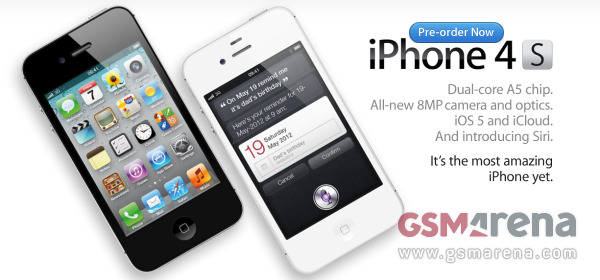 All the pre-orders will ship from October 14th, whilst 2 days earlier Apple will release iOS 5 for the iPhone 3GS/4, the iPad family and the compatible iPod Touches. The unlocked USA iPhone 4S will ship in November though and it is the first time Apple has offered carrier-independent iPhone's on the US market right from the start.
On October 28th the list of countries offering iPhone 4S availability will grow far larger. The following countries will get the 4S: Austria, Belgium, Czech Republic, Denmark, Estonia, Finland, Hungary, Ireland, Italy, Latvia, Liechtenstein, Lithuania, Luxemburg, Mexico, Netherlands, Norway, Singapore, Slovakia, Slovenia, Spain, Sweden and Switzerland. Even more countries are joining the list later this year from some time in December.
f
People like you completely miss the point. Apple and it's iPhone are a completely different creature and are going after a different audience than Samsung with their GSII. It's Motorola, HTC, & other manufacturers that are competing with Samsun...
M
When is this phone coming to CANADA???????????????
ADVERTISEMENTS