According to the latest report from the Strategy Analytics, Apple iPhone 5 was the best-selling smartphone in the world for the the fourth quarter of 2012.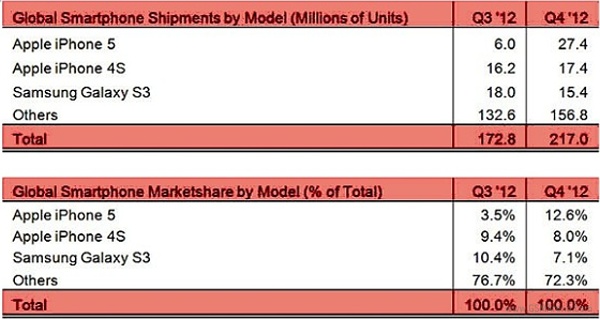 Surprisingly, the second spot was taken by Apple's iPhone 4S, leaving the Samsung's current flagship device in the third place. According to the report, Apple managed to ship 27.4 million iPhone 5 units during the holiday three month period, while iPhone 4S accounted for another 17.4 million units.
Samsung Galaxy S III global shipment was estimated to be about 15.4 million in Q4, which is a decline compared to Q3. The top three smartphones account for a whooping 27.7% of the entire smartphone market.
Samsung is rumored to launch its next generation flagship device on March 14 and it will certainly be aiming to reclaim the top spot, after the Galaxy S III held it in Q3.
D
Apple sold ten million iPad mini, no-one else didnt sold even 10 millions of their tablets combined, just like i wroted. What more proves you need :D
T
Look at Android 1.6 and then Android 4.2.2. Then you look at the first iPhone OS version and then you look at iOS 6. How much differences do you see between iPhone OS and iOS and how many visible changes are there for the normal users? Then...
m
I can't find that evidence any were not even on the internet I didn't even hear it on the radio I didn't even see it on TV that ipad mini sold more than any other 7 inch android tablet check on amazon for best selling 7 inch tablet u will find that i...
ADVERTISEMENTS